Volunteers make a great contribution to many people's lives. Here in the mental health field, we understand the impact just one caring individual can make. Laurel House, the non-profit mental health organization that brings you Rtor.org, publicly honors one special volunteer each year with its "Power of One" award.  The past three award winners were Laura Ryan, Betsy Varian and Cindi Richardson who were recognized for their outstanding dedication to improving the lives of others. This year the award goes to Greenwich, CT resident Chitra Ramcharandas who has devoted her time to facilitating art classes to those who participate in Laurel House programs.
The great thing about volunteering with those affected by mental health disorders is the positive influence you can make on someone's life. Many of the volunteers at Laurel House witness the personal growth of those they are helping. Of course, volunteering isn't one sided; the impact of helping others has a substantial effect on the lives of the volunteers.
In her weekly class, Chitra promotes a positive attitude towards art which allows her students to create freely without worrying about judgement or appraisal. Chitra states she often cannot tell whether the art classes are benefitting the students or herself more.  She says "The hour and a half I spend with them is filled with laughter, gentle music and camaraderie. Over the years, my "students " have become an extended family.  They are a caring wonderful group with a great sense of humor, wisdom and extreme tolerance."
Creating art isn't just a fun pastime, it has been shown to help people with various conditions feel more confident in themselves and happier in their day-to-day life. We appreciate all that Chitra has done to add fun and creativity to Laurel House's environment.
Throughout the month of May, RtoR.org will release a daily Post
of the Day in observance of Mental Health Awareness Month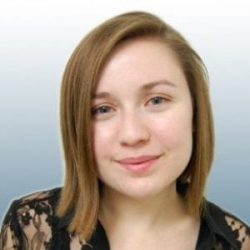 Latest posts by Veronique Hoebeke for www.rtor.org
(see all)