Today's wellness story comes from Jeff Fink, the founder of Go Fetch Wellness. Jeff's story demonstrates the amazing impact animals can have on people's lives and the importance of a holistic approach to mental health. We are grateful to Jeff for sharing his story with us at rtor.org. –Veronique Hoebeke, Associate Editor 
Suffering, medications, endless crying, panic, electric shock therapy, more medications, hospitalizations, trans-cranial magnetic stimulation, more medications, more crying, hopelessness, talk therapy, and more opinions than I can count. That was my life for the last 17 years.  My challenges with mental health began at the age of 18 and proved to be much harder to treat than I could ever imagine. When the young psychiatrist at The University of Wisconsin told me that I had major depression and it was treatable, I still had hope. After my 70th combination of psychiatric drug cocktails, my hope quickly dwindled away and I resigned to a life filled with extreme anxiety, insomnia, severe depression, and everything in between. I lived in fear of ending my life, in isolation from the world, unable to work, unable to get relief.  My family was supportive, searching for answers, helping get me to the best medical advice available, reading, attending support groups but still I suffered.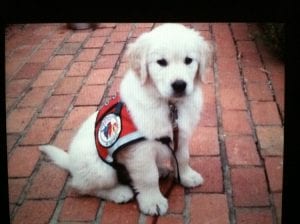 Three years ago, I found a new reason to live, and with that a best friend, Earl.  He is my now 3-year-old service animal. He's a sweet golden retriever that continues to save my life daily. While with him, I can be in the present, my over-active mind feels calm, leaving me to focus on the road ahead. Earl's presence helps to stimulate conversation with strangers, get me into nature and, of course, keeps me exercising and moving.  After more psychiatrists than anyone should ever visit, and more evidenced-based treatments that failed to provide relief, who would have thought that this sweet dog would have been my answer to stability?
The human-animal bond is a powerful thing and very hard to research why its effects are so profound. For me, when all else failed, I had to try more complementary approaches that involved the whole-person treatment of mental health struggles. In turn, I decided to share this powerful bond with others who were struggling. This is why I founded Go Fetch Wellness. We visit people in their homes—those who live as I did for so many years, in fear of the functioning world. Through our work, we have gotten people on their own path to healing, not through magic, but through this unbelievable connection animals have with people. They do not care what you look like, whether you are wheelchair bound or severely depressed, whether you are black, white, or green, they love and accept you for you. I am not saying animals are a cure all, they certainly are not. However, they do help tie many existing therapies together to help generate movement, hope, and healing.
Now, I can proudly say that I have a life worth living, a purpose in this world—something I felt would never be achievable. I hope and pray that by introducing others to the power of the human-animal bond, I can help someone else avoid the painful nature of severe mental illness, particularly those that are not responsive to treatment.
If you are reading this and feel lost, isolated, in pain and without support, please know there is light at the end of the tunnel. Try any and everything you can to regain a sense of purpose, be easy on yourself, and know that you are worth it!
To learn more, please visit:  www.gofetchwellness.com or call me at 404-694-0003.
–Jeff Fink
Subscribe to our e-newsletter for more mental health and wellness articles like this one.
SUBSCRIBE NOW Latest posts by Guest Author for www.rtor.org
(see all)