The Stressed Years of Their Lives: Helping Your Kid Survive and Thrive During Their College Years:
In Conversation – November 21st at the Walker Center for the Arts, Katonah, New York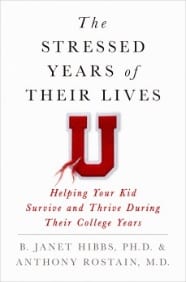 The transition from high school to college is fraught for parents and students alike. THE STRESSED YEARS OF THEIR LIVES: Helping Your Kid Survive and Thrive During Their College Years offers a comprehensive guide to how parents can prepare themselves and their children for the many challenges college and independent living can bring. Dr. Janet B. Hibbs and Dr. Anthony Rostain explain the crucial differences between typical student behavior and early warning signs of clinical disorders. They also navigate the arcane laws governing campus medical record privacy, offering clear directions for parents to both prevent and help their child's problem.
Some takeaways from the book:
Learn how to develop social and emotional readiness—the truest predictors of long-term success—alongside academic skills;
Identify and learn to overcome three common mindset barriers to success: Feelings of Not Belonging; Fear of Not Making It and Emotional Problems;
Know how to reduce mental health stigmas within families and create safe spaces for open, honest conversations around mental health challenges between parent and child;
Understand the adolescent brain and its relationship to risky behavior;
Learn what to expect, (whether on campus or back home) if your child seeks mental health counseling, including diagnosis, navigating psychiatric care, medication, and medical records;
Prevent your child's mental health problems from damaging your marriage and instead, keep family bonds strong.
B. JANET HIBBS M.F.T., Ph.D. has held faculty positions for more than 15 years in graduate programs for psychologists and marital and family therapists, and maintains a private practice in Philadelphia.
ANTHONY ROSTAIN, M.D., M.A., is a nationally recognized expert in the field of child and adolescent psychiatry. He is professor of psychiatry and pediatrics at the Perelman School of Medicine, University of Pennsylvania, and practices "lifespan neurodevelopmental psychiatry" at The Children's Hospital of Philadelphia (CHOP) and in the Department of Psychiatry of Penn Medicine. He was Co-Chair of the University of Pennsylvania's Task Force on Student Psychological Health and Welfare from 2014-2016.
The Walker Center For The Arts, the Harvey School
260 Jay Street, Katonah, New York
Thursday, November 21st 7:00 pm to 8:30 pm
Book Signing 8:30 pm
Admission for the event is $10 per seat or $20 includes a copy of the book. Please register online or contact Emma Romano, eromano@laurelhouse.net for more information.
Reviews
"This is the type of book every parent should read before discussions of college even begin. Packing in just the right amount of statistics and real-world scenarios, two doctors offer sound advice on how parents can better prepare their children for the challenging college years that lie ahead of them."Kirkus Reviews
 "This book is a hopeful and essential guide that promotes emotional health and mental fitness in young people. The authors address the realities of mental illness and offer models for prevention, treatment, and recovery. A must-read for parents, educators, and clinicians." Patrick J. Kennedy, nationally-bestselling author of A Common Struggle, and sponsor of Paritytrack.org
The opinions and views expressed in this guest blog do not necessarily reflect those of www.rtor.org or its sponsor, Laurel House, Inc. The author and www.rtor.org have no affiliations with any products or services mentioned in this article or linked to herein.
Latest posts by Staff Writer for www.rtor.org
(see all)