Adolescence is hard enough. But for LGBTQ (lesbian, gay, bisexual, transgender, queer or questioning) youth, the difficulties of these years are compounded by stress related to prejudice, bullying, and the fear of rejection. In extreme cases, some are exposed to the damaging practice of conversion therapy. Such dynamics can lead to an array of mental health challenges. But with the right support, LGBTQ youth can find help to address such challenges and learn to embrace self-acceptance and happiness.
Daily mental health challenges
Across all settings—school, home, among peers, and in the community—many LGBTQ youth experience the fear of prejudice, bullying, and rejection, leading to higher risks of substance abuse, self-harm, and even thoughts of suicide. According to the National Alliance on Mental Illness (NAMI), "LGBTQ individuals are almost three times more likely than others to experience a mental health condition such as major depression or generalized anxiety disorder," and LGBTQ teens "are six times more likely to experience symptoms of depression than the general population."
To complicate matters further, NAMI noted that these individuals face both the stigma associated with identifying as LGBTQ, and of society's bias toward those with a mental health issue. As a result, some believe they can't reveal their sexual orientation to those in the mental health system—and may also hide their mental health conditions from their LGBTQ friends, leaving few options for support.
The stress of coming out
A Pew Research survey of LGBT Americans reveals the stress associated with the coming out process for LGBTQ youth. The survey found that lesbian, gay, and bisexual adults first felt they might be something other than heterosexual or straight at a median age of 12, became sure of their sexual orientation at a median age of 17, and first came out to a family member or close friend at a median age of 20, if they chose to do so at all. Of those surveyed, 59 percent said they told their parents. But 59 percent who told their mothers and 65 percent who told their fathers said it was difficult to do.
The fear of being bullied
According to Mental Health America (MHA), LGBT youth are "nearly twice as likely to be called names, verbally harassed or physically assaulted at school compared to their non-LGBT peers." MHA describes the impact of such bullying on an individual's mental health:
Substance Use: LGBT youth are more than twice as likely to experiment with drugs and alcohol.
Happiness: Only 37 percent of LGBT youth say they are happy, compared to 67 percent of non-LGBT young people.
Self-Harm: With each instance of verbal or physical harassment, the risk of self-harm among LGBT youth is 2 1/2 times more likely.
Suicide: LGBT youth are four times more likely to attempt suicide than their heterosexual peers.
The trauma of conversion therapy
One of the most damaging practices that LGBT youth may face is conversion therapy—a "treatment grounded in the belief that being LGBT is abnormal … [and is] intended to change the sexual orientation, gender identity, or gender expression of LGBT people." A recent report by the Williams Institute at UCLA School of Law projects that 77,000 LGBTQ youths (ages 13-17) will receive conversion therapy before they turn 18.
Research consistently confirms how harmful conversion therapy can be. This practice thwarts self-acceptance, which can result in depression, shame, anxiety, self-hatred, social withdrawal and suicidal thoughts. Dr. Joy Whitman is a core faculty member with the online Master's in Counseling Program from the Family Institute at Northwestern University and a licensed professional counselor with expertise on LGBTQ issues. She explains the damage that conversion therapy creates: "It's trying to change the essence of the person," she says. "We know that sexual orientation can be fluid. But it's the coercion to change that is the harmful nature of it. The basic communication is that there is something wrong with you if you are same-sex attracted."
She notes the harmful effects that specifically impact LGBTQ youth: "There's a crisis of identities that's involved here for clients and a potential loss of family. And there is a deep sense of shame born from religion, society, the educational and legal systems, and the mental health systems," she says. "Especially for kids, there is a sense of failure in not being able to change that can cause a loss of community and disconnect from family."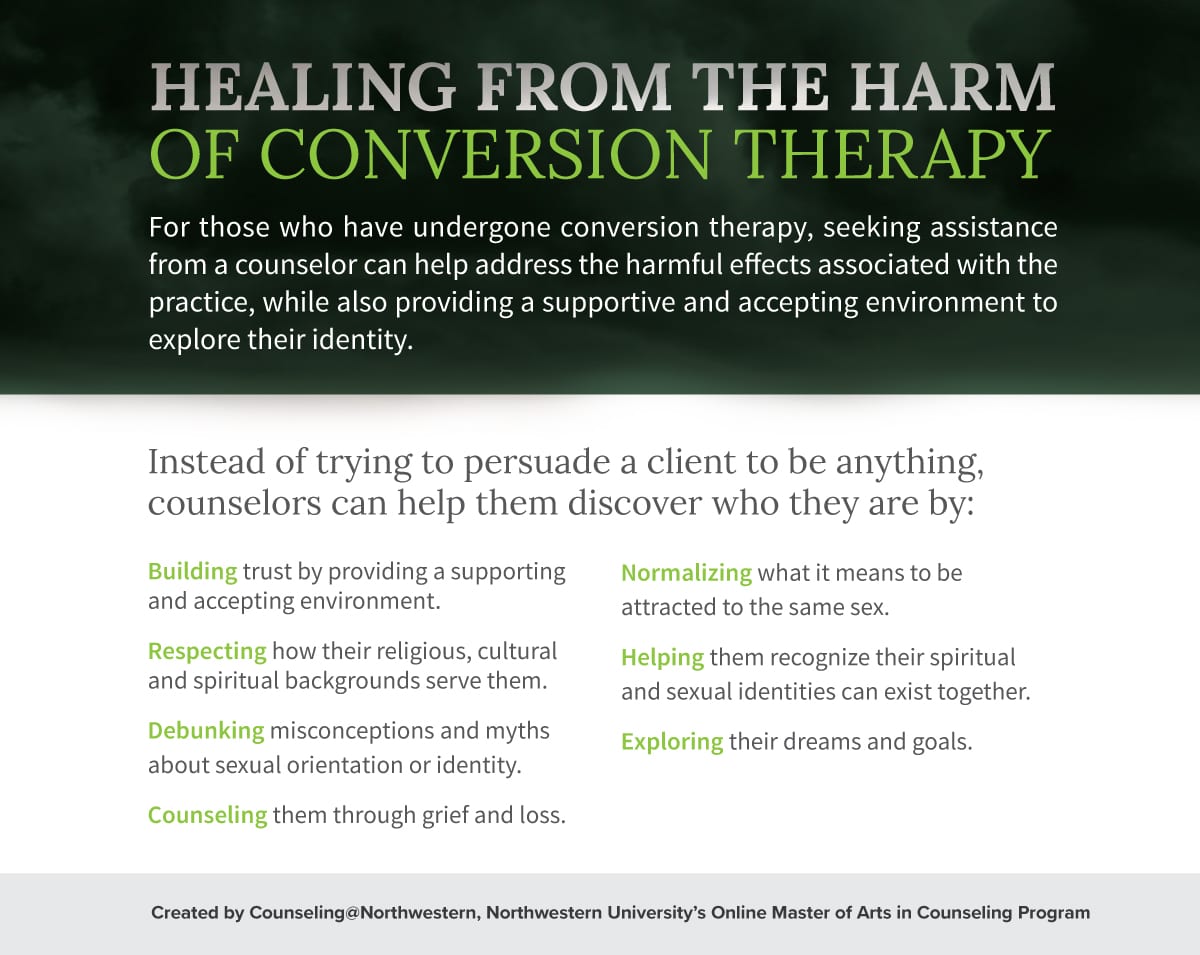 How mental health counselors can help
With all the dynamics involved, the healing process can be complicated for those who have been forced into conversion therapy. Dr. Whitman says the fact that conversion therapy has often been disguised and provided by a licensed mental health professional can create a lot of distrust. "I have to remember that the very profession that I represent has betrayed them. They tried to get help from people that they thought were healers, so I'm very mindful that I will have to work hard to let them know that our work together will be supportive and that I want to understand the conflicts that they have," she says. "My role with them is not to try to convince them to be anything, but to help them uncover and discover who they are."
Author Bio: Colleen O'Day is a digital marketing manager and supports community outreach for 2U Inc.'s social work, mental health, and K-12 education programs. Find her on Twitter @ColleenMODay.
Photo by graham wizardo from Pexels
The opinions and views expressed in this guest blog do not necessarily reflect those of www.rtor.org or its sponsor, Laurel House, Inc. The author and www.rtor.org have no affiliations with any products or services mentioned in this article or linked to herein. Latest posts by Guest Author for www.rtor.org
(see all)