On December 5, Moffly Media held the 12th Annual Light a Fire Celebration of Giving at Westport Country Playhouse in Westport, CT. Long-time Laurel House Board Director Michael Parker was one of ten individuals and organizations honored at the event, which celebrates volunteers, philanthropists, and organizations in lower Fairfield County "who have gone beyond the ordinary to extraordinary in their giving back to our community."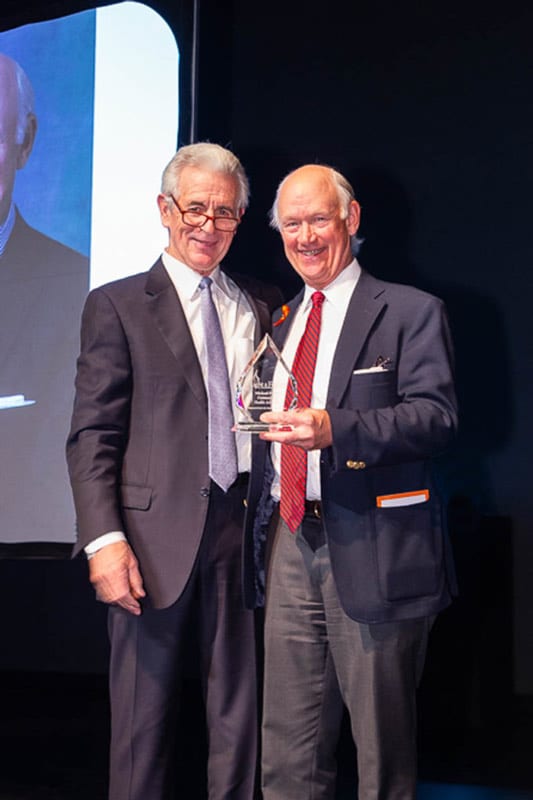 The event was hosted by Tony Award-winning actor, director, and longtime Weston resident James Naughton, who has presided over the ceremony in past years. He spoke before a packed house at the Westport Country Playhouse, with Michael Parker the first honoree called to the stage to receive his award as Outstanding Health Advocate.
Michael Parker joined Laurel House's Board of Directors in 1994 and has served an unprecedented two terms as Chairman. Laurel House is a nonprofit organization based in Stamford, CT that provides mental health resources to people coping with mental illness, and their families, across numerous communities in and around Connecticut.
Although Michael is not personally affected by mental illness in his life, he joined the board of Laurel House 25 years ago because he believes it's important to give back to the community. "I started with Laurel House because I wanted to help people who were completely underserved. The stigma around mental health made it unpopular. I liked that we were working with people who had no champions."
In his brief acceptance speech, Michael described his involvement in two key initiatives at Laurel House. He played a leading role in the Capital Campaign Committee, which raised the funds for Laurel House to purchase a building in Stamford for expanded services and capacity to serve adults with mental health disorders. During his second term as Chairman, he led the strategic planning process and participated in the planning for two key initiatives: the Thinking Well (Cognitive Remediation) program, which addresses executive functioning in adults with mental illness, and www.rtor.org, a gateway website for mental health resources.
In addition to his twenty-five years of service to Laurel House, Michael is an active member of St. Barnabas Episcopal Church in Greenwich, and an engaged supporter of the Nicholas School of the Environment at Duke University, Americares in Stamford, and the Baker Institute at Cornell University.
Nine other individuals and organizations were honored during the course of the evening. In 2018, Moffly Media partnered with the Fairfield County's Community Foundation (FCCF) to highlight two organizations that are closing the opportunity gap for the underserved of Fairfield County. This year, FCCF selected two local nonprofits, Connect-Us and Building One Community, to receive their Community Impact Award, which includes a $2,500 grant to each organization.
The complete list of 2019 Light a Fire honorees are as follows:
LIFETIME ACHIEVEMENT AWARD
A. Reynolds Gordon for the Myron L. and Claire B. Gordon Foundation, Princeton, Yale, the Fugees (an immigrant soccer team), among numerous others
OUTSTANDING LEADER
Giovanna Miller for the American Red Cross, Greenwich United Way, YWCA, Stanwich School, Greenwich Country Day School, Greenwich Hospital, Breast Cancer Alliance, Junior League of Greenwich
BEST FRIENDS TO ANIMALS
Dr. Nolan Zeide and Dr. Steven Zeide for Stamford Animal Shelter Alliance Project Precious, Save a Lab, Stamford Regional Agriscience & Technology Center, Stamford Dog Park (founder), Stamford Arboretum, St. Paul's Day School, AVID Program and more
BEST FRIEND TO GIRLS
Sheri West for LiveGirl
OUTSTANDING HEALTH ADVOCATE
Michael Parker for Laurel House, St. Barnabas Episcopal Church, Nicholas School of the Environment at Duke University, Americares, Baker Institute at Cornell University
MOST DEDICATED TEEN
Purab Angreji for India Cultural Center, Scouts (Eagle Scout), Wilton High School Model Congress, WHS Debate Team WHS International Club, WHS Band
MOST DEDICATED BOARD MEMBER
Tracy McHale Stuart for Save the Children
CORPORATE GOOD NEIGHBOR
Reed Exhibitions for Kids in Crisis, Bridgeport Rescue Mission, Norwalk Mentor Program, Connecticut Food Bank, Homes for the Brave, Ronald McDonald House, Catherine Violet Hubbard Animal Sanctuary, Habitat for Humanity, Ludlow Senior Center
FAIRFIELD COUNTY'S COMMUNITY FOUNDATION COMMUNITY IMPACT AWARD
Pam Lewis, Executive Director of Connect-Us
Catalina Horak, Executive Director of Building One Community
This year's recipients of the Community Impact Award were selected by FCCF. All other honorees were selected through nominations submitted by readers of Moffly Media.
The awards celebration for Moffly Media's 12th Annual Light a Fire Celebration of Giving 2019 was made possible with contributions from Platinum Sponsor J.P. Morgan Private Bank, Gold Sponsor Karl Chevrolet, and Silver Sponsors Bigelow Tea and Laurel House, with special thanks to James Naughton, Marcia Selden Catering & Event Planning, Westport Country Playhouse, Winston Flowers, and DJ Kunjan – Kunjan Collective.
A portion of the evening's ticket sales will benefit Fairfield County's Community Foundation, which promotes philanthropy as a means to create lasting change.
Pictures from the December 5th Celebration at the Westport Country Playhouse can be viewed… here
A short video with highlights from the event is also available online.
The opinions and views expressed in this guest blog do not necessarily reflect those of www.rtor.org or its sponsor, Laurel House, Inc. The author and www.rtor.org have no affiliations with any products or services mentioned in this article or linked to herein.
Latest posts by Staff Writer for www.rtor.org
(see all)