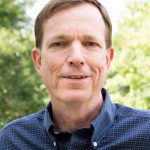 Jay Boll, LMSW, is the Vice President of Laurel House, Inc., and Editor in Chief of www.rtor.org, a gateway website that helps families find resources and support for their loved ones with mental health conditions.  Since arriving at Laurel House in 1988, Jay has worked with hundreds of people living with serious mental health disorders and run multiple programs in psychiatric rehabilitation.  Most recently, he developed the Thinking Well program, which he adapted from the Neuropsychological Educational Approach to Cognitive Remediation (NEAR).  This innovative program helps people regain and improve cognitive skills impaired by schizophrenia and other mental health disorders.
As Editor in Chief of rtor.org, Jay is passionate in his mission to identify the best practices and providers in recovery-oriented mental health care. Jay writes about his own family's experience of mental health and mental illness in his blog The Family Side.  He also presents at international conferences such as the annual Cognitive Remediation in Psychiatry conference and the Association for Behavioral and Cognitive Therapies conference, and is a columnist for esperanza Magazine, contributor to Huff Post, and guest blogger on www.bphope.com, which publishes the bipolar-themed bp Magazine. A prolific writer and with a passion for literature, birding, gardening, and cooking, as well as causes related to mental health, he was named a Top Writer for 2018 on Quora, a question and answer social media platform with 190 million monthly users.
Jay completed more than five years of volunteer service in the US Peace Corps, developing housing, vocational training, and education programs for homeless youth in the Central American nation of Honduras.  In the mid-90s, he took a two-year leave from Laurel House to be the Program Manager of the Zimbabwe office of Oak Foundation, a group of philanthropic organizations around the world that addresses issues of global, social and environmental concern.  In this role, Jay assessed funding proposals to the Oak Zimbabwe Foundation and traveled throughout the country evaluating projects, including some of the first HIV/AIDS treatment and prevention programs in Africa.
Jay attended Purchase College, where he received a B.A. with honors in sociology, and is a graduate of the Columbia University School of Social Work, where he received his M.S.W.  Following his years of international service, he resettled in his hometown of Norwalk, CT, where he continues to live with his wife Tina and two children.
Jay invites you to connect with him on Twitter @JayWBoll.
Jay Boll in the Media
Esperanza Magazine–Viewpoint Columnist
bp Magazine–Guest Blogger
Huffington Post–Contributor
Top Writer for 2018–Quora
Connecting Families Video
Mental Health Matter Radio Show–Interview with Resources To Recover
Opinion: A conversation on mental health, Darien Times.
Opinion: Darien youth are at risk, Darien Times.
Resources to Recover Aids the Human Capacity to Survive Mental Illness, HuffPost Teen.
Thinking Well Video