Review: The Anonymous People
Mini-Review of the Documentary "The Anonymous People" (2013)
by Jay Boll, Editor in Chief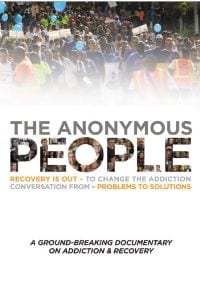 This feature documentary makes the case that deeply entrenched social stigma and discrimination have kept many of the 23 million Americans living in long-term addiction recovery silenced in anonymity.  The Anonymous People focuses on a few of their numbers who are speaking out to change public perceptions, and ultimately the response to the addiction crisis in our America.
This is not the kind of feature documentary that presents an all-sides exploration of an issue.  Instead, it seeks to persuade its audience of its point of view: that it is time for people living in recovery from addiction to step forward and be counted as they claim the treatment, support and respect they are due
The best part of The Anonymous People are the many not-so-anonymous people who  courageously step forward to share their views.  I was affected by many of their stories, and the common touch passion and panache of McShin Foundation founder and advocate John M. Shinholser was nothing short of entertaining.
The film's young narrator and director, Greg Williams, makes a chilling point with a story about a near brush with death, told not from his perspective, but that of his parents who received the kind of phone call that no parent ever wants to get.  Former NBA star Chris Herren's story about a presentation before a group of high school students moved me to anger, sympathy and admiration all at once.
Another strength of this feature documentary is its history of Alcoholics Anonymous and the addiction recovery movement.  88 minutes; highly recommended.
The Anonymous People delivers an important message about taking pride and speaking up for what you believe on a topic as vital as mental health and addiction recovery.  It is the first media product to receive the RtoR "Family-Endorsed" seal of approval on this website.
Want to see the movie?

Click this ad to purchase the DVD on amazon.com

. Your purchases will help support the costs of running rtor.org, a free service of Laurel House, Inc., 501 (C)(3), non-profit organization.