Christmas and the holiday season can be the happiest, most wonderful time of the year.  At least that's what the songs on the radio and in all the stores keep telling us from the middle of November to New Year's Day.
For many of us it is also the most stressful time of year:  complicated travel arrangements and bickering about who will spend which days where; marathon schedules of school concerts, holiday parties, and seasonal entertainments to attend; ugly sweaters to be donned; Grandma's traditional cookies to be baked and gingerbread houses to be gloppily assembled; failing fuses on tangled strings of lights; questions whether to call it "Christmas" or "the holidays;" and an overabundance of opportunities to give in to the temptations of bad habits from Christmases past.
Of all the holidays of the year, Christmas is my favorite.  It's a good thing, too, because if I did not love Christmas so much it would probably do me in with all the turmoil, stress, and potential for disappointment it dumps on our lives like a major snowstorm.  One of the biggest stressors for me is holiday gift selection. Unfortunately, it is also happens to be one of my favorite things about the season.
A few days ago, I felt a kind of panic as I realized that the bulk of my holiday shopping remains to be done.  Perhaps there are others like me who start thinking about their holiday shopping early in September and end up looking for free two-day shipping deals on December 22.  Even with a week to go, I know that I'll be down to the wire as I continue searching for the perfect gift, only to settle for whatever is available on Amazon Prime those last two days before the holiday.
If you are at all like me, you enjoy giving gifts that are appropriate, unique, useful, and appreciated (not to mention affordable).  You want them to say something about how you feel about the other person and your regard for them.  You may also want your gifts to say something about you: that you are generous, thoughtful, tasteful, or ingenious.
Perhaps you are looking for a gift to be all these things.  Like me, you want to give the perfect gift.  But what exactly might that be?
For those who really care, finding the perfect gift is both the pleasure and the problem with holiday shopping. But what if the perfect gift was something as simple as gratitude?
"Giving is an expression of gratitude for our blessings." – Laura Arrillaga-Andreessen
Gratitude is the perfect gift because:
Gratitude is free.  It doesn't cost you anything and yet is one of the most valuable gifts you can give another person.
Gratitude is always appropriate and can be given any time of year. It is also instantaneous, so you don't have to look for two-day shipping.
Gratitude is always appreciated.  While it may embarrass some of us, nobody turns town a gift of gratitude.
Gratitude is the gift that welcomes returns.  The more you give the more you get back.
Gratitude is the gift that keeps on giving.  As the Greek playwright Sophocles wrote more than two millennia ago, "Gratitude to gratitude always gives birth."
"Gratitude is the healthiest of all human emotions. The more you express gratitude for what you have, the more likely you will have even more to express gratitude for." – Zig Ziglar
Gratitude also has many benefits for your personal health and wellbeing.  Research shows that expressing gratitude has the following benefits to you:
Gratitude improves your emotional and mental health. Multiple studies have shown how gratitude reduces depression and increases happiness.
Gratitude improves your physical health.  A 2012 study has linked the cultivation of gratitude with better self-care and increased willingness to seek care for health concerns.
Gratitude improves your relationships with others by helping you develop patience and good manners.
Several studies show that cultivating gratitude in your life will benefit your mental health and wellbeing even if you keep it to yourself.  Some ways of privately cultivating gratitude are meditation, prayer, counting your blessings in a list or writing daily entries in a special gratitude journal.
You don't have to share your gratitude with other people to reap these benefits to your health.  However, it just feels better when someone else is on the other end.
"Feeling gratitude and not expressing it is like wrapping a present and not giving it." – William Arthur Ward
For me, unexpressed gratitude is like the burden of a debt that has yet to be discharged.  You don't pay it back, so much as you are released of it once you get it off your chest.
Benjamin Franklin wrote "To the generous mind the heaviest debt is that of gratitude, when it is not in our power to repay it."  Writing a thank you note or email, sending a text message, commenting on social media, or a simple "thank you" over the phone or in person are all easy and appropriate ways of relieving that burden.  Keep in mind that a person does not have to be alive or currently present in your life for you to write him or her a special note of gratitude.
I don't think I will ever give up the joys and hassles of holiday gift shopping.  It is too much a part of my and everybody else's holiday tradition to do away with.  But this Christmas and holiday season I plan to put gratitude at the top of my list.
If you are grateful for rtor.org, please tell others about it and consider supporting our nonprofit sponsor, Laurel House who makes this service available free of charge.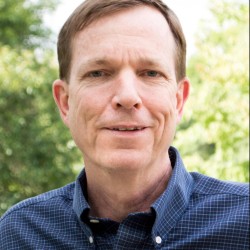 Latest posts by Jay Boll, Editor in Chief www.rtor.org
(see all)