Fresh air on your face, hair blowing in the wind and the shifting scenery around you as the daylight changes – and the weather, too. Being outdoors definitely awakens the senses and stirs the emotions.
Getting outdoors is said to 'blow the cobwebs away', however, it can do so much more than that. The benefits of getting regular outdoor exercise can have a huge impact on your mental health.
So, here are 4 ways to feel the effects for yourself:
Walking
There are lots of the most beautiful walking routes out there. Whether you just want to incorporate a mile into your daily commute, or research a 5 or even 10 mile walking route to do on the weekend, you can easily find a range of walks. You can also choose which terrain your walk has and how difficult or easy it is.
Walking helps to improve general mood and sleep as well as reducing the risk of developing depression by 30%. And it helps those who already have depression to recover.
So, to start, you could just get off the bus a stop early, or leave the car and walk to the shop to sneak in a bit more time outdoors with some easy exercise. Not only is it great for mental health but it also has many physical benefits, such as improving cardiovascular health and the bonus is you don't need any equipment.
Cycling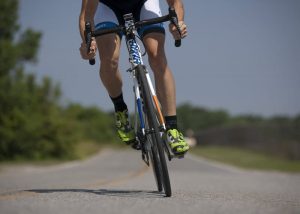 Cycling is a fantastic way of improving your mental well-being, as it provides all the beautiful views, releases endorphins and provides a sense of fulfillment in reaching new places or targets.
It is not only a great way to see some picturesque parts of the country, but also improves stamina, joints, muscles and cardiovascular health, amongst other benefits.
Cycling can quite often become a way of life for many who take it up as a hobby, with groups and competitions providing a community and a way of meeting like-minded people. It is therefore very helpful for improving mood and confidence, while decreasing stress levels – making it very beneficial for mental health.
Running
The popularity of Park Runs and 10ks has jumped up in recent years, as more and more people find that running is a fun sport that improves health, too.
Improving cardiovascular health, building strength and alleviating depression are just some of the benefits of running. Just 30 minutes is all that is required in order to lift the mood of someone suffering with depression, according to a study by the American College of Sports Medicine.
Not only this but running has also been found to help people sleep better and focus more. What actually happens during running is that the body produces endorphins and endocannabinoids – so you feel both a massive high and super chilled afterwards. Therefore, it can also have the same effect as meditation for anxiety.
Swimming
Research has shown that people who live with mental health disorders and swim on a regular basis find they feel happier, are better at completing daily tasks and find life more manageable.
Swimming can reduce the risk of chronic illness, is good for your heart, weight and is a low impact sport. You can start by swimming for an hour each week at the local pool, taking a class if you can't already swim or join a swimming club.
Then, once you're confident enough, you can progress to outdoor swimming. Challenges and triathlons are great motivations – just make sure you're completely safe.
There are so many scenic rivers and lakes that are perfect for wild swimming. Surrounded by nature, it is the ideal activity for getting outdoors, feeling exhilarated and getting fit while at the same time improving your outlook.
Getting outside gives us a chance to disconnect from technology, to be distracted instead by nature and to have our thoughts calmed.
Our conclusion…
Depending on how adventurous you are or your fitness level, we have shown here that there are several ways to enjoy the great outdoors. You can even try more than one! And it will definitely enhance your mental health by enjoying nature and getting the physical health benefits that come with it, too.
If you do decide to get outdoors in any of the above ways to start feeling good, what better way to feel even better than by raising money for charity at the same time? Even thinking about it feels good!
There are lots of ways to get outdoors and raise money for charity, which will help others while at the same time having a positive impact on your own mental health.
It only takes minutes to set up an online donation page where friends and family can contribute. And it is also quick and easy for them to donate, too, meaning the easier it is, the more likely you are to get make more money for a charity.
Author Bio: This article was written by Matt Saunders, founder and owner of Charity Box, a web design company that builds websites for charities. Matt has been making websites since 2001 and recently started his social enterprise to help charities maximize their impact through digital.
Photo Credits: Šárka Jonášová on Unsplash; Pixabay
The opinions and views expressed in this guest blog do not necessarily reflect those of www.rtor.org or its sponsor, Laurel House, Inc. The author and www.rtor.org have no affiliations with any products or services mentioned in this article or linked to herein. Latest posts by Guest Author for www.rtor.org
(see all)