RtoR Family-Endorsed Provider Profile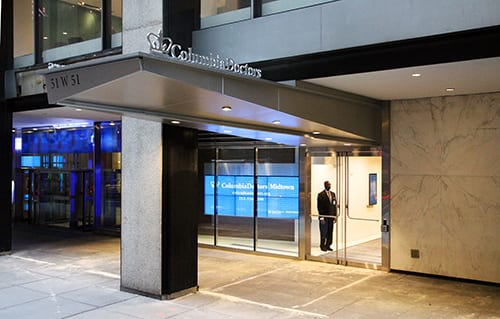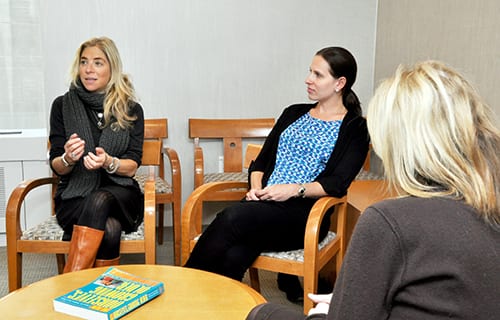 The Lieber Recovery and Rehabilitation Clinic
Psychiatric Rehabilitation Service
New York, NY
The Lieber Recovery Clinic, located in New York City, provides adults with serious mental illness, access to community-based treatment including intensive outpatient day treatment and a full range of on-site psychiatric, medical and rehabilitation services.  As part of the Columbia Psychiatry network of care and an integral part of the well-known Columbia Day Treatment Program, clients of the Lieber Recovery Clinic have access to a full spectrum of care, with seamless delivery of services from inpatient to outpatient and from psychiatric to medical services.
The Lieber Recovery and Rehabilitation Clinic
ColumbiaDoctors – Midtown
51 West 51st Street
New York, NY 10019
212-326-8441
Website
Directions
Family Member Quotes
"When I first brought my daughter who had been diagnosed with schizophrenia to the Lieber Clinic, she was highly disorganized with exceedingly poor social skills.
"While there is no cure for the disease, the innovative programs developed by the Lieber Clinic have brought my daughter into a safe zone. She has developed hands-on life skills that allow her to live independently and she can now interact with ease in a variety of social settings.
"The team has been more than a collective of talented trained professionals. Each member is truly vested in my daughter's happiness and well-being. From my perspective, as a parent, that devotion is a crucial element of my daughter's ongoing therapy."
"I am so encouraged by your program.  I think it is exactly what he needs right now…"
"For Tanya, her participation so far has been more than any other program she has been involved with to date so I am very hopeful. From my point of view she is significantly improved."
"Thank you for giving me my son back."
Participant Quotes
"My friends and relatives have told me that I communicate more, and am more open to meeting people, show more confidence and am less anxious. Now I feel that I can live with an illness that is manageable"
"I stay around my family at the dinner table because I feel more comfortable with them.  I am more social. Thanks to God for finding the Columbia Lieber Recovery Clinic. Everyone has been great from start to finish."
Other Provider Quotes
"Last year I referred a patient to the Lieber Recovery Clinic.  I figured out how to get his psychotic symptoms from severe to mild. The family and I realized he still couldn't live in the real world so he enrolled in the Lieber Recovery program. My patient is now in college; travels on his own via public transport; he loves the Lieber Recovery Clinic."
"For persons with schizophrenia or other psychotic disorders and family member(s) able to pay for THE BEST, you cannot do better than the Lieber Recovery and Rehabilitation Clinic."
Information and Referrals
Speak with a Resource Specialist about services and referrals to the Lieber Recovery Clinic.
Specialties
Psychiatric Rehabilitation

Cognitive Remediation

Behavioral Treatments for Psychotic Disorders

ADHD services

Social Skills Training for Autism Spectrum Disorders
Services
Evaluation & Assessment

Cognitive Remediation

Cognitive Behavior Therapy
Dialectical Behavior Therapy
Psychotherapy
Life Skills Coaching
Psychopharmacology
Health and Wellness
Medical Care Coordination
Work Placement
School Readiness
Social Skills Training
Social Support
Treatment Approaches
Neuropsychological Educational Approach to Cognitive Remediation (N.E.A.R.)
Dialectical Behavior Therapy (DBT)
Cognitive Behavioral Therapy (CBT)
Social Cognition Interaction Training
Motivational Interviewing
LEAP (Listen-Empathize-Agree-Partner)
Client Focus
Psychotic Disorders (Schizophrenia, Affective Psychoses)
Autism Spectrum Disorders
ADHD
Accreditations & Qualifications
Awards
The Lieber Clinic has been featured on national television, and the clinic's founder Dr. Medalia is the recipient of prestigious awards such as The Brain Behavior Research Foundation Productive Lives Award.
Hospital/University Affiliations
Columbia University
In operation since: 2006
Payment
Fees are on a self-pay basis
Lieber Clinic in the Media
The Lieber Recovery and Rehabilitation Clinic has been featured twice on the "Healthy Minds" television series, a program which highlights mental health issues and cutting edge treatments. The first episode, titled Living with Schizophrenia, was aired on PBS in November 2008, and discussed issues relating to the symptoms and treatment of schizophrenia. In 2013, "Healthy Minds" again featured the Lieber Clinic to show how treatment makes it possible for people with schizophrenia to live a productive life.
Lieber Clinic Mission Statement
The clinical mission of the Lieber Clinic is to provide highly personalized, state of the art psychiatric treatment for persons with schizophrenia, schizoaffective disorder, bipolar disorder and other severe and persistent mental illnesses. The goal of treatment is to support recovery to optimal functioning and independent living by addressing the multitude of factors which contribute to an individual's performance in these realms.
The educational mission of the Lieber Clinic is to serve as a model program and resource for people interested in learning about the implementation of state of the art recovery programs. Through conferences, publications and consultation, we hope to provide information about treatments that promote recovery.
More about Lieber Clinic
"We are committed to helping people with serious mental illness improve their quality of life, and achieve their goals to broaden their social network, work, finish school, and move into independent living in the community."
"In taking a recovery-oriented approach to treatment, we seek to teach skills which will translate into real world goal achievement."