The editors of www.rtor.org have made a list of their favorite websites, blogs, books, and movies dealing with the topic of anxiety.
Anxiety Websites and Blogs
Websites
www.anxiety.org – This website offers basic information on all anxiety disorders and has a large panel of experts writing daily articles with a self-help and how-to emphasis.
www.hopetocope.com – The official website for esperanza Magazine, focusing on anxiety and depression, and featuring multiple blogs by people with lived experience and an active user forum.
Mayo Clinic Anxiety – The Mayo Clinic website is an excellent source of general information on all major mental health disorders.  Information is presented in a clear, easy to understand, yet thorough manner.  There are several pages devoted to the symptoms, treatment, and self-management of a variety of anxiety and related disorders.
Psych Central Anxiety – Psych Central is an independent social network for mental health and run by mental health professionals.  It features more than 100 mental health blogs and publishes several articles a day, including many on themes of anxiety.
Blogs
Anxiety Schmanxiety – Bloggers Tanya Peterson and Gabe Howard write about their day to day experiences living with anxiety disorders, as well as coping strategies for managing anxiety.  Their blog has a positive recovery-oriented tone.
Anxiety Slayer  – A weekly podcast of anxiety release exercises, guided relaxation, and supportive tools designed to beat anxiety.
Overcoming Social Anxiety – Psychotherapist Kyle MacDonald has created a website to promote his book and program of videos and workbooks, which he sells online.  But his free podcasts and blog are full of useful information for managing social anxiety.
wE'Re AlL mAd HeRe – Humorous, but sensitive and often thought-provoking blog by a young woman who lives with anxiety and panic disorders.
The Worry Games – Positive messaging from a mother of 5 living with multiple anxiety disorders.  The blogger Lisa Scott is a great writer with a talent for making complicated subjects accessible to everyone.
The Family Side and Just Right Wellness – Our own family mental health and wellness blogs here on www.rtor.org.
These websites and blogs provide information about anxiety and how to live well with the disorder.
Anxiety Books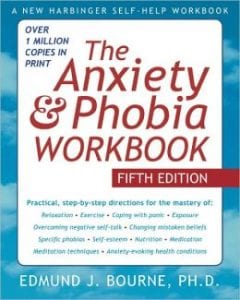 Bourne, Edmund J.  The Anxiety and Phobia Workbook (6th Ed., 2015) – A practical guide to dealing with anxiety and phobias based on the principles of cognitive behavior therapy (CBT).  This Number 1-selling anxiety book on amazon.com offers step-by-step treatment strategies for all anxiety disorders, as well as obsessive compulsive disorder (OCD) and posttraumatic stress disorder (PTSD).
Burns, David D.  The Feeling Good Handbook (Rev. Ed., 1999) – An accessible, easy to read explanation of the benefits and techniques of CBT, with self-help advice on dealing with anxiety, depression and other mental health issues.
Burns, David.  When Panic Attacks: The New, Drug-Free Anxiety Therapy That Can Change Your Life (2006) – More on the benefits of CBT for managing anxiety by the author of The Feeling Good Handbook.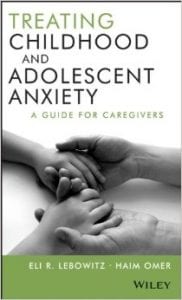 Lebowitz, Eli R., and Haim Omer.  Treating Childhood and Adolescent Anxiety: A Guide for Caregivers (2013) – A handbook for mental health professionals which outlines a program of supportive parenting  for children and teens living with anxiety.  Although directed at clinicians, the book contains much information of value to families and is written in language that can be understood by the average person.
Orsillo, Susan M.  The Mindful Way through Anxiety: Break Free From Chronic Worry and Reclaim Your Life (2011) – A step-by-step mindfulness approach to dealing with anxiety.
Smith, Daniel.  Monkey Mind: A Memoir of Anxiety (2012) – Critically acclaimed memoir on living with anxiety.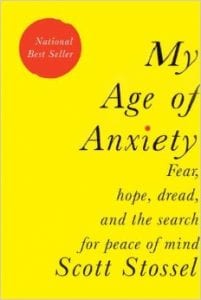 Stossel, Scott.  My Age of Anxiety: Fear, Hope, Dread, and the Search for Peace of Mind (2014) – The Editor of The Atlantic magazine has written a layperson's history of anxiety, drawing on science, philosophy, culture and the arts, and framed by his own experiences with the disorder.
Tompkins, Michael A., Katherine A. Martinez.  My Anxious Mind: A Teen's Guide to Managing Anxiety and Panic (2009) – A guide for adolescents that focuses on cognitive behavioral strategies for managing anxiety.  Includes real life stories of teens living with anxiety, illustrations and workbook exercises.  (ages 12-18)
Wehrenberg, Margaret.  The 10 Best-Ever Anxiety Management Techniques: Understanding How Your Brain Makes You Anxious and What You Can Do to Change It (2008) – Self-help tips such as breathing techniques, self-talk and mindfulness exercises that can be used to manage everything from nervousness about making a presentation at work to the symptoms of a full-blown anxiety disorder.
These books provide detailed insight on Anxiety as well as practical tips for managing anxious symptoms.
Anxiety Movies and Documentaries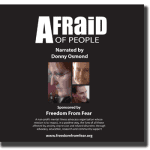 Afraid of People (2011) – This hour-long documentary alternates its focus between several people living with anxiety and scientific explanations for the disorder.  One scene of a therapy session for a young man with social anxiety provides good first-hand insight into how cognitive behavior therapy (CBT) helps people change their thinking about their condition.  Narrated by former child star Donny Osmond, who has been very vocal about his own experiences with anxiety.
As Good As It Gets (1997) – Jack Nicholson and Helen Hunt are featured in this movie about a cantankerous novelist with OCD and phobias who falls for a tolerant waitress at his favorite restaurant.  The film offers a Hollywood take on mental illness, but is noted for the superb performances of the leads who won just about every major acting award for it.
The Aviator (2004) – Academy Award-winning biopic by Martin Scorsese focuses on the life of self-made billionaire Howard Hughes, who had multiple successful careers as a filmmaker, pilot and business tycoon, before succumbing to severe OCD and agoraphobia in later life.
Elling (2002) – A Norwegian comedy about a 40-year old man with anxiety struggling to make it in the world after years of being sheltered from life first by his mother, then later by an institution.
Grey Gardens (1975) – This classic documentary depicts the daily lives of an upper class mother and daughter who lived in a dilapidated mansion overrun with animals.  Widely considered to be one of the best of all time, Grey Gardens has sparked much debate as to whether its subjects struggled with OCD and other disorders or were just eccentrics who chose to live that way.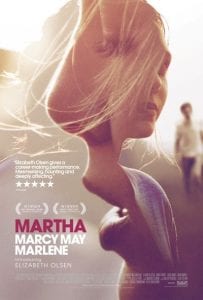 Martha Marcy May Marlene (2011) – So many movies dealing with the subject of PTSD rely on old clichés and stereotypes of combat vets and victims of violent crime to make their point.  Though the story is grim, this low-budget film about a young woman trying to recover from the effects of indoctrination in a cult strikes a refreshing note of authenticity.
Mary and Max (2009) – This critically acclaimed animated feature focusing on the pen pal relationship between an 8-year old Australian girl and a middle-aged New Yorker has multiple characters with anxiety and other mental health disorders.  It makes a great of showing that not every person who struggles with mental health wants to be "cured."
OC87: The Obsessive Compulsive, Major Depression, Bipolar, Asperger's Movie (2012) – A documentary about the filmmaker Bud Clayman's struggle with multiple mental health disorders, including OCD.
Opening Night (1977) – Classic John Cassavetes movie about an aging actress's struggle with performance anxiety.
This section features movies with characters who live with anxiety disorders as well as documentaries about anxiety.
Check out the many successful and notable people who are living well with anxiety: Living Well with Anxiety 
Anxiety Page