Update: Much has changed since Robin Williams' death in 2014. New information has been released regarding the circumstances of his reported suicide. There have also been changes in the family situation Jay describes in the post from August 13, 2014. For a happier, more positive continuation of this story, read Jay's most recent post on this subject in his blog The Family Side.
Yesterday while driving to Vermont to bring my fifteen-year-old-daughter home from camp, I could not help but hear the many news reports and remembrances of Robin Williams, including a 2006 interview on public radio where he described his struggles with depression not as a clinical condition, but as an ordinary emotion that all people feel at times.  "Sometimes I feel sad," was how he put it to Terry Gross of NPR's Fresh Air.
It is hard to understand how a man who seemed to have his own mental health in such balanced perspective, could end up taking his own life eight years later.  Robin William's death by suicide on Monday has seized the attention of an entire nation in part because he seemed to be of such healthy mind.  The madcap portrayals of his more zany comic characters may have led us to suspect a touch of mania and we may have heard reports of his struggles with alcohol and other substances.  We can also sense the real-life pain beneath his portrayals of such characters as John Keating in The Dead Poets Society and Sean Maguire in Good Will Hunting.  We would expect the man who played those characters to admit that "Sometimes I feel sad."  But we would never expect him to take his life.
The untimely death of a celebrity always seems to focus the public attention: more so in the case of Robin Williams, precisely because of who he was in public.  We know the public persona as presented in his movie, TV and radio appearances and believe we know the person.  This makes it all the more shocking when that person does something so at odds with the public persona.  John Keating and Sean Maguire were the ones urging us to live, despite the pain that life can bring.  So losing Robin Williams is a little bit like losing them and the hopeful life-affirming message they delivered.  This is partly why a nation grieves this week.
As I listened to the radio, I also felt a private grief.  My destination was a therapeutic camp for children and adolescents challenged by mental health conditions, and I was driving to pick up my daughter five days early because her own struggles with depression and anxiety had made it impossible for her to stay there.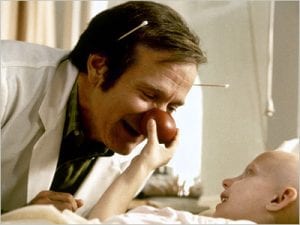 During the four-hour drive from Connecticut, I was grieving not just for Robin Williams, but also for my daughter and my own lost hope that she may have found a temporary relief from her struggles of mental health in a summer camp made for kids like her. Running through my mind were simultaneous images of Robin in The Fisher King and Peter Pan alongside pictures posted on the camp's website of my daughter poised in meditation class or her smiling face with friends as she sailed along a zip line.  But Peter Pan and Sean Maguire could not save the man who portrayed them any more than zip lines and meditation could stop my daughter's pain.  Laughter and friends are only temporary remedies… Such is the nature of depression.
In some ways, I have been my daughter's Sean Maguire, her Peter Pan and Patch Adams all in one.  Over the years I have developed a repertoire of character voices with elaborate back stories and exaggerated foibles to help jolly her out of her depression and get her through her anxious nights.  I even have an emergency clown nose which I break out when things get really rough.  The amazing thing is it really works!  But only for a while.
Depression and anxiety may be conditions which my daughter lives with all her life.  Though I may always cling to the hope that someday "she'll get over it," I realize there are depths of depression that no comedian can lift you out of. Not even Robin Williams. If it were possible to do that, Robin the man would still be alive. 
Robin Williams is gone.  But his characters live on in all of us to inspire hope – maybe even more so now that we have a glimpse into the inner pain, along with the joy, that went into their creation.  And I'm not giving up the emergency clown nose, even though I know that it will never be enough to fully heal my daughter.
Thank you Robin Williams for all the joy you brought us.
You can listen to Robing Williams talk about his depression, life and other topics in this NPR interview:  Robin Williams on Fresh Air
For more articles on mental health like this one, subscribe to our e-newsletter.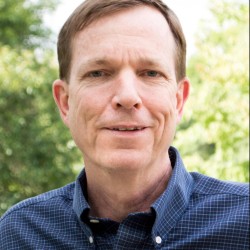 Latest posts by Jay Boll, Editor in Chief www.rtor.org
(see all)