RtoR Family-Endorsed Provider Profile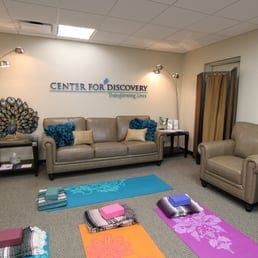 Center for Discovery 
Greenwich Outpatient
Greenwich, CT
Center for Discovery Greenwich Outpatient program serves adolescents and adults with eating disorders in Greenwich, CT and the surrounding communities. The program involves individual therapy, group therapy, and a comprehensive dietary program that includes meal supervision and dietary structure. The outpatient program also offers a variety of other therapeutic services including free support groups, life skills, grief and loss therapy, and enhanced dietary groups. Center for Discovery offers services for the family members of clients with family psycho-education, a weekly therapeutic family meal, and family support groups.
Center for Discovery–Greenwich Outpatient
7 Riversville Road, Suite 2A
Greenwich, CT 06830
866-377-9962
Website
Directions
Family Member Quotes
"My wife and I took our daughter to Center for Discovery because every resource we had told us this was the best place to go to treat her Anorexia. Without a doubt, it was one of the best decisions we made. The staff was incredibly caring and supportive, and the clients were giving, open and so helpful. The spirit of hope and care that permeated the walls was evident from the minute we walked in. We went on to become very involved, going to family sessions, eating dinner with our daughter and other clients, and learning from everyone. The road since leaving has not been perfect, and we were told to expect that by the staff at Center for Discovery. We were more prepared for the stages that follow treatment and ways of coping with those stages because of our time at Center for Discovery."
"At the lowest point of my child's struggle with her eating disorder, I saw through her eyes that she was slipping away. She was 11 years old. I turned to Center for Discovery as I knew I couldn't fight this fight alone. Their staff made it possible for me to have my child back again. She has the light back in her eyes, she's been weight restored for over a year, and now at 13 years old she has begun to live life. They are more than just a treatment program, they are a part of our Forever Family!"
Other Provider Quote
"As a private practitioner, I referred a young woman to this organization for additional support and treatment for her eating disorder. She attended all aspects and levels of their programs, Residential, Day, Partial Hospitalization, and IOP. I am grateful for Center for Discovery for staying with my client who struggled in all aspects of the treatment. My client can continue to receive support in Center for Discovery weekly community group. The clients can have a meal, receive support with the meal and then attend a support group that follows the meal. The outpatient therapist can continue to collaborate with Center for Discovery in the client's ongoing stages of recovery. It is a great model of support, communication and collaboration with the best interests of the recovering person."
Information and Referrals
Speak with an RtoR Resource Specialist about services and referrals to Center for Discovery–Partial Hospitalization Program.
Services
Family program weekly
DBT group sessions
CBT group sessions
Individual and Family therapy
Free eating disorder assessment
Complementary benefits check
Shame resilience groups
Body acceptance groups
Expressive arts therapies
Mindful movement
Transforming trauma grounding tools
Food science education
Intuitive eating practices
Customized ERP (exposure response prevention) dietary program
Weekly accountability checks
Discharge planning sessions
Nightly grounding tools
Client Focus
Adolescents (10-17)
Adults (18+)
Eating Disorders
Other Services at Center for Discovery
Accreditations & Qualifications
Joint Commission Accredited
Center for Discovery has been in operation since: 1997
Payment
Center for Discovery is in-network with all major health insurance plans
Email Us