Seniors tend to have chronic illnesses that can lead to mental health conditions, such as depression and anxiety. Then there are mental health disorders that are chronic illnesses, such as schizophrenia and bipolar disorder, which also affect young adults and people in middle age.
According to the World Health Organization, fifteen percent of Americans who are sixty years or older suffer from at least one mental health issue. The Centers for Disease Control and Prevention (CDC) say the most common mental health conditions in seniors are cognitive impairment from conditions such as Alzheimer's, mood disorders, such as depression, and anxiety.
Fortunately, Medicare recognizes the prevalence of mental disorders in the elderly and covers many mental health services.
Outpatient Services for Mental Health Care
Medicare Part B covers medically necessary outpatient services including many mental health outpatient services. Some mental health services Part B may cover are psychiatric evaluations, diagnostic tests, individual and/or group psychotherapy, and treatment for alcohol and or drug abuse. You can receive these services at your doctor's office, an outpatient department at a hospital, or a mental health center.
Medicare will cover these services if you see a professional such as a psychiatrist, a clinical psychologist, or a physician assistant. Your healthcare provider must accept Medicare assignment for Medicare to cover your mental health care visits.
Part B also offers a partial hospitalization program for those with mental health disorders that aren't severe enough for inpatient admission but could use more structured care. The doctor you see and the hospital you use must both accept Medicare assignment for Medicare to cover it.
For outpatient services like these, you will owe the Part B annual deductible of $185 as well as a twenty percent coinsurance. If you receive your services at a hospital, you may owe a copayment as well.
Preventive Care
Medicare Part B also has a preventive care benefit that includes mental health services. Some examples of preventive care that Part B offers are a yearly "Wellness" visit, a "Welcome to Medicare" visit, and a depression screening. When Part B covers your preventive care services, you pay nothing.
The "Welcome to Medicare" visit and the annual "Wellness" visit include an assessment of your risk for depression. Depression screenings are covered once per year and must be done at a primary care physician's office.
Inpatient Services for Mental Health Care
Seniors with more severe disorders such as schizophrenia or dementia may require hospitalization. Medicare will cover your mental health care services in a regular hospital or a psychiatric hospital.
When you're admitted to a hospital, your Part A deductible of $1,364 will cover the first sixty days in the hospital. Days 61-150 will have a daily copay that starts at $341 and increases to $682. After 150 days, you are responsible for all costs for Part A services.
Once you've been out of the hospital for at least sixty days, your benefit period ends. A new benefit period will begin if you're admitted to the hospital again. The Part A deductible is per benefit period. Therefore, if you start multiple benefit periods in one year, you could end up paying the Part A deductible more than once.
Although Part A will cover as many benefit periods as needed in a regular hospital, it will only cover up to 190 days in a person's lifetime in a psychiatric hospital.
Medicare Part A covers your stay, while Part B covers your doctor services during your stay. Therefore, you will have Part B cost-sharing amounts such as your deductible and coinsurance in addition to your Part A cost-sharing amounts.
Prescription Drug Coverage for Mental Health Care
Many mental conditions, such as bipolar disorder, depression, and schizophrenia, can be managed by prescription medications. Medicare Part D provides you with coverage for prescriptions.
Before selecting a Part D plan, be sure to evaluate the plan's formula to make sure it covers your important mental health drugs. If you blindly enroll in a plan that doesn't cover your drugs, then you could end up having to change prescriptions.
The amount you pay for your prescriptions will depend on the plan you enroll in.
Help with Costs
There are plans to help cut out-of-pocket spending. Medigap Plan G covers all of your Original Medicare (Part A and Part B) cost-sharing amounts except one, the Part B deductible. It's important to note that Medigap plans only pay if Medicare pays. Therefore, Medigap plans do not cover mental health services that Original Medicare doesn't cover.
You can also look into Medicare Advantage plans for mental health coverage.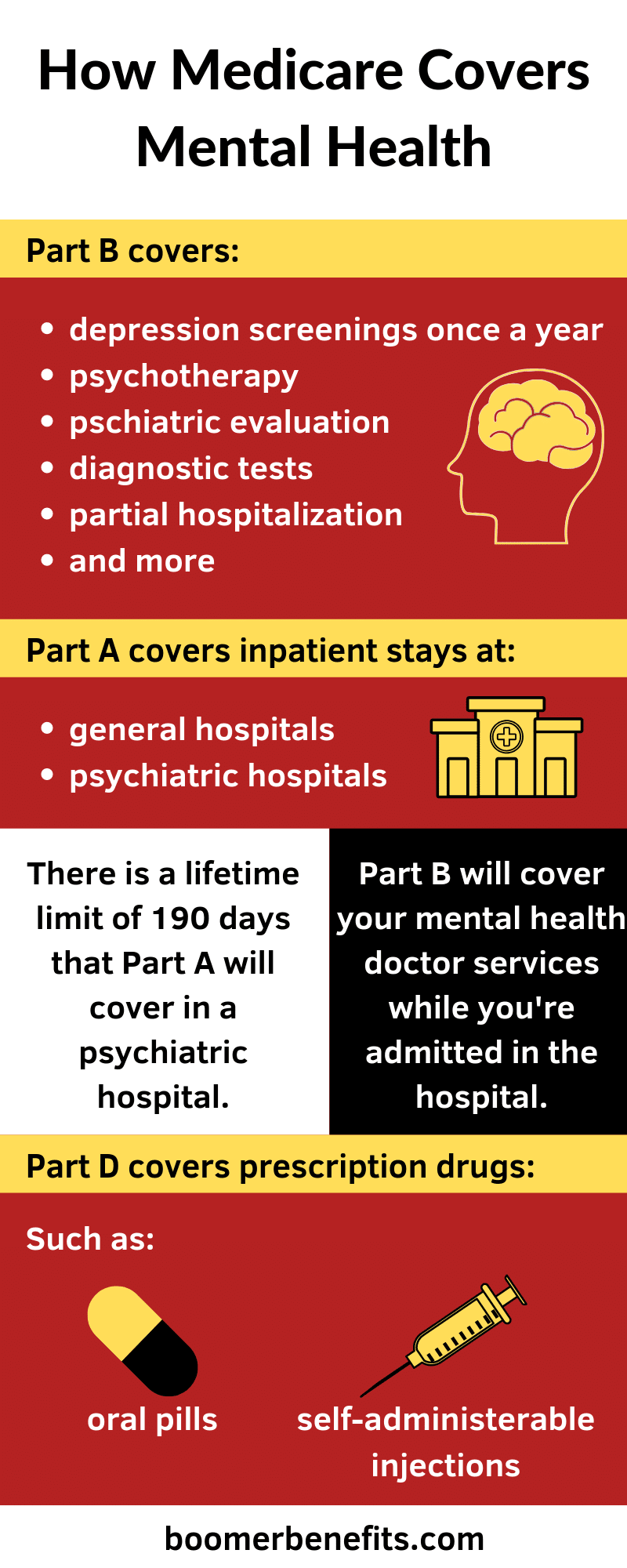 Author Bio: Danielle K Roberts is the co-founder of Boomer Benefits where she and her team help baby boomers navigate their Medicare insurance options. She is a member of the Forbes Finance Council and writes frequently about Medicare, retirement and personal finance.
Image by silviarita from Pixabay
The opinions and views expressed in this guest blog do not necessarily reflect those of www.rtor.org or its sponsor, Laurel House, Inc. The author and www.rtor.org have no affiliations with any products or services mentioned in this article or linked to herein. Latest posts by Guest Author for www.rtor.org
(see all)