The holidays are a joyous time, whether it is Thanksgiving, Christmas, Kwanza, Hanukkah, or New Years. However, every year millions of Americans battle substance use disorders and co-occurring issues like anxiety and addiction. The time from Thanksgiving to New Years is rough for people struggling with addiction, mental health issues, and anyone in recovery. Along with this, it is difficult to know how the on-going pandemic, government intervention, lockdowns, job loss, and everything else happening in 2020 will impact people during the holiday season. Most states are taking it week by week and month by month, but millions of Americans have been affected mentally while trying to find new ways to cope.
Going into the holiday season, the average family is focused on managing the "new normal"—anyone struggling with an addiction and a mental health problem or someone in recovery is likely managing day-to-day. Drugs and alcohol become a solution to manage stress, fatigue, and not being with friends or family over the holidays. However, coping with the stress of the holiday season during COVID-19 will be difficult but not impossible. It is often simple things like not succumbing to the holiday pressures, practicing self-care, volunteering, or getting back to nature that can often keep people grounded. Also, remaining connected with family and friends is crucial, even if it is virtually. If you are struggling with a co-occurring disorder, like substance use and anxiety, take advantage of telehealth services, online counseling, or substance use rehabilitation.
What Causes the Increase in Mental Health Issues and Substance Use During the Holidays?
Some of the typical sources of holiday depression include stress, fatigue, financial stress, lack of energy, inability to be with friends or family, and over-commercialization. Unfortunately, due to the on-going pandemic, millions of Americans are struggling with financial stress, an inability to be with family friends, job loss, and family stress. These issues lead to an increase in substance use and mental health problems. According to the Centers for Disease Control and Prevention Morbidity and Mortality Weekly Report, more than 25% of young Americans aged 18 to 24 seriously considered killing themselves during the month of June 2020. Those struggling with co-occurring disorders who do not get the help they need struggle even more, and suicide is a difficult reality to face.
What are the Symptoms of Holiday Depression, Anxiety, and Substance Use?
The COVID-19 pandemic has caused an increase in substance use across the nation, especially with opioids. Per the 2020 ESO EMS Index: COVID-19 Special Edition, between January 1, 2020, and July 31, 2020, opioid overdose responses jumped 30%. The numbers increased in particular in May and June by approximately 41% and 53%, respectively. More people staying home, many of them alone, battling depression, anxiety, and substance use—there will be an increase in fatal and non-fatal overdose. It is difficult to know how the holiday season is going to play out, but family and friends should be aware of the symptoms.
For example, excessive drinking, which is common during the holiday season—people want to celebrate but often forget their boundaries. The issues with alcohol consumption during the pandemic will likely pour over into the holiday season. People also struggle with more headaches due to vitamin deficiencies and intestinal toxemia. The over and frequent consumption of sugars, fats, and refined foods are responsible for this. Lack of sleep is a common problem that impacts people over the holidays, especially those with co-occurring disorders. Also, overeating, as millions of Americans struggle with obesity, substance use, and depression. Everyone should be aware of these symptoms and have a loving conversation offering help and support.
Dealing with Holiday Anxiety and Substance Use
Everyone knows the holiday season brings emotional highs and lows, and drugs or alcohol become a solution to manage. However, there are ways to recognize the triggers and manage the holiday season, especially during the COVID-19 pandemic. According to the Substance Abuse and Mental Health Services Administration, the need for a trauma-informed approach is critical. It is important to think about how the holiday season will impact you and ask yourself what is going to help and what will hurt you. Everyone struggling with a co-occurring problem has holiday triggers, and it is essential to take time to notice your own responses.
Begin planning now, speak with your counselors, therapist, or addictions specialist, attend more meetings, and stay connected to positive people in your life. Also, pay close attention to your nutrition and exercise, especially with the additional stress of the pandemic. Whether you start an exercise routine during Thanksgiving, Christmas, or as a New Years' resolution, taking care of your body helps take care of your mind. Dealing with substance use requires not putting yourself in any situation where you are surrounded by alcohol and people abusing alcohol. This may seem difficult during the holiday season, especially since the pandemic caused an increase in alcohol use—but you know your limitations and should recognize your triggers.
Take Advantage of the Support You Have and Stay Informed
The holidays are a stressful time for everyone; however, ask for help with mental or physical health issues you are struggling with. Also, education and awareness are powerful first-line defenses, whether you have a support network or have recognized your triggers and are prepared to manage. The COVID-19 pandemic is lurking over everyone's shoulder during this holiday season, and it is an added source of stress. Something that you cannot necessarily observe does become anxiety, coupled with the stress and anxiety of the holiday season. Create a support structure, stay informed and educated about what you can do, recognize your triggers, and enjoy the little things the holiday season brings.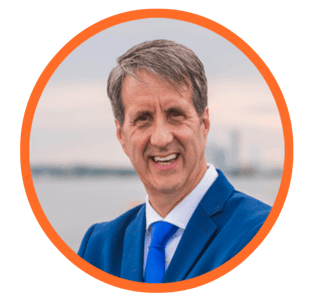 About the author – Marcel Gemme has been helping people struggling with substance abuse for over 20 years. He first started as an intake counselor for a drug rehabilitation center in 2000. With drug and alcohol problems constantly on the rise, he utilized his website, Addicted.org, and community outreach as a way to spread awareness. His primary focus is threefold: education, prevention, and rehabilitation.
Photo by Volodymyr Hryshchenko on Unsplash
The opinions and views expressed in any guest blog post do not necessarily reflect those of www.rtor.org or its sponsor, Laurel House, Inc. The author and www.rtor.org have no affiliations with any products or services mentioned in the article or linked to therein. Guest Authors may have affiliations to products mentioned or linked to in their author bios only. Latest posts by Guest Author for www.rtor.org
(see all)