It's no secret that the COVID-19 pandemic has put a major dent in the mental health of people across the world. Whether we look at what's gone viral – back when everything on the internet was cake – or follow the impacts on mental health and substance use, it is clear that this year will leave just as much of an impact on our individual psyches as it does on our collective well-being.
The mental health impacts of the coronavirus aren't always direct. Sure, many of us are stuck working from home and socializing less, yet so much of daily life has changed that other things are impacting our well-being. Not being able to see live events like a basketball game or concerts, to eat at your favorite restaurant, to go see your kids in the school play – it all adds up.
We see fewer people and spend more time alone, which makes us feel more lonely.
From installing standing desks to navigating remote schoolwork, there is little that hasn't changed in our daily routines. And even with DoorDash and Zoom happy hours, there is still a strong human desire for socialization and interaction.

This loneliness is quantifiable – a survey conducted earlier this year found that over 40% of respondents had felt lonely for at least one day over the past week. And not only are people feeling lonely, but loneliness also leaves lasting impacts that affect more than just your mental health.
A study authored by psychologist Julianne Holt-Lunstad suggests that a lack of social connection increases health risks as much, if not more than obesity. So loneliness leaves lasting impacts that affect more than just your mental health.
With lockdowns rolling back into effect across Europe, it's reasonable to predict that many across the world will revert to some of the loneliest periods of 2020 before the year is over. And with major holidays around the corner, it is important to remember that the easiest way to be safe this holiday season is to stay apart. Perhaps some of these body scans or other relaxing exercises can help us find a true moment of calm during this incredibly trying time.
We are all feeling more depressed and anxious.
Beyond feeling lonely, a study conducted in March and April of this year in the Journal of the American Medical Association suggests that depression rates have tripled since the start of the pandemic. Yes, that number is correct – tripled. Some of the most important factors influencing these depression symptoms were exposure to other stressors like job loss and worries about money.

This coincides with a June survey that found 4-out-of-10 of respondents had felt lonely or depressed for at least one day that week. This was even more pronounced by age group – nearly 6-out-of-10 respondents between the ages of 18 and 22 had felt depressed at least one day of the past week.
When considering the multitude of stressors impacting our daily lives, it is difficult to overlook the obvious – contracting the coronavirus. The downstream impacts from this are numerous: sickness, hospital bills, perhaps even death. Yet as was evident in the results from the aforementioned study, there are stressors even beyond the pandemic that are making this year particularly hard.
The world is experiencing a significant amount of social turmoil. Perhaps for most readers, the events at the forefront of consciousness are the 2020 election and nationwide protests against racism and police brutality in the United States. But beyond America, major issues are causing unrest as well – Nigeria has also erupted in protest against police brutality, and protests against the Chinese government continue in Hong Kong. In short, it's been a hell of a year.
So if you're feeling depressed or anxious this year, even if it's for the first time, you certainly are not alone. Maybe you can follow me and take advice from the hosts of the podcast Reply All – up your self-care to include long baths and scented candles. And know that you can always get help from the National Suicide Prevention Lifeline at 1-800-273-8255.
For people with kids, their mental health demands are far greater.
If you live somewhere that has kept your kids home from school (or preschool or daycare), you can identify with the difficulties of taking care of yourself while trying to maintain a schedule and keep their brains busy. Getting your own work done can be just as hard – we've all seen the hilarious ways that Zoom school can go wrong.
Even if you live where kids have returned to school, their daily lives are probably not the same as the school days we remember. Masks are the norm, and more classes are being held outside. These are difficult changes and conversations to have with our kids, which can impact their mental health as well as parents'.
Beyond the real mental health impacts of school changes and staying home, there are major impacts of the pandemic on other key components of family life, like food insecurity and job loss. With all of these stressors, it's no wonder that dealing with quarantine amid a pandemic is particularly stressful for parents.

Survey results from June 2020 show that individuals with canceled or postponed school activities are more likely to feel hopeless for the future. This comparison is stark – over 1-in-2 people (52%) with changed school activities felt hopeful about the future, compared to nearly 2-in-3 (64%) people without canceled or postponed school activities. If we consider the whole country, the effect of these trends can be measured in millions of people with canceled school activities who are struggling with hopelessness about the future.
According to a study published in the journal Pediatrics, 27% of parents reported worsening mental health in themselves, and 14% reported worsening in their children. These coincide with dramatic losses in childcare, with 40% of parents with children aged five and under reporting they lost regular childcare.
These changes in mental health and their consequences are pushing working parents to their breaking point, both financially and mentally. Alongside the benefit (and stress) of more time with children at home, there are plentiful resources helping parents through this stressful time. Parents really deserve an award for balancing changing work schedules with the chaos that is child care during the pandemic.
Being hungry makes everything worse
Based on results from a survey conducted earlier this year, nearly one-in-five (20%) of respondents had food that did not last, without money to buy more. Another survey shows that families are reporting increased food insecurity, with a greater reliance on food banks, with the number of families not being able to afford to eat increasing during the pandemic. The chart below shows that of people receiving food pantry assistance, there are significant concerns about saving food and making it last – a luxury afforded to those who are not food insecure or relying on food pantries.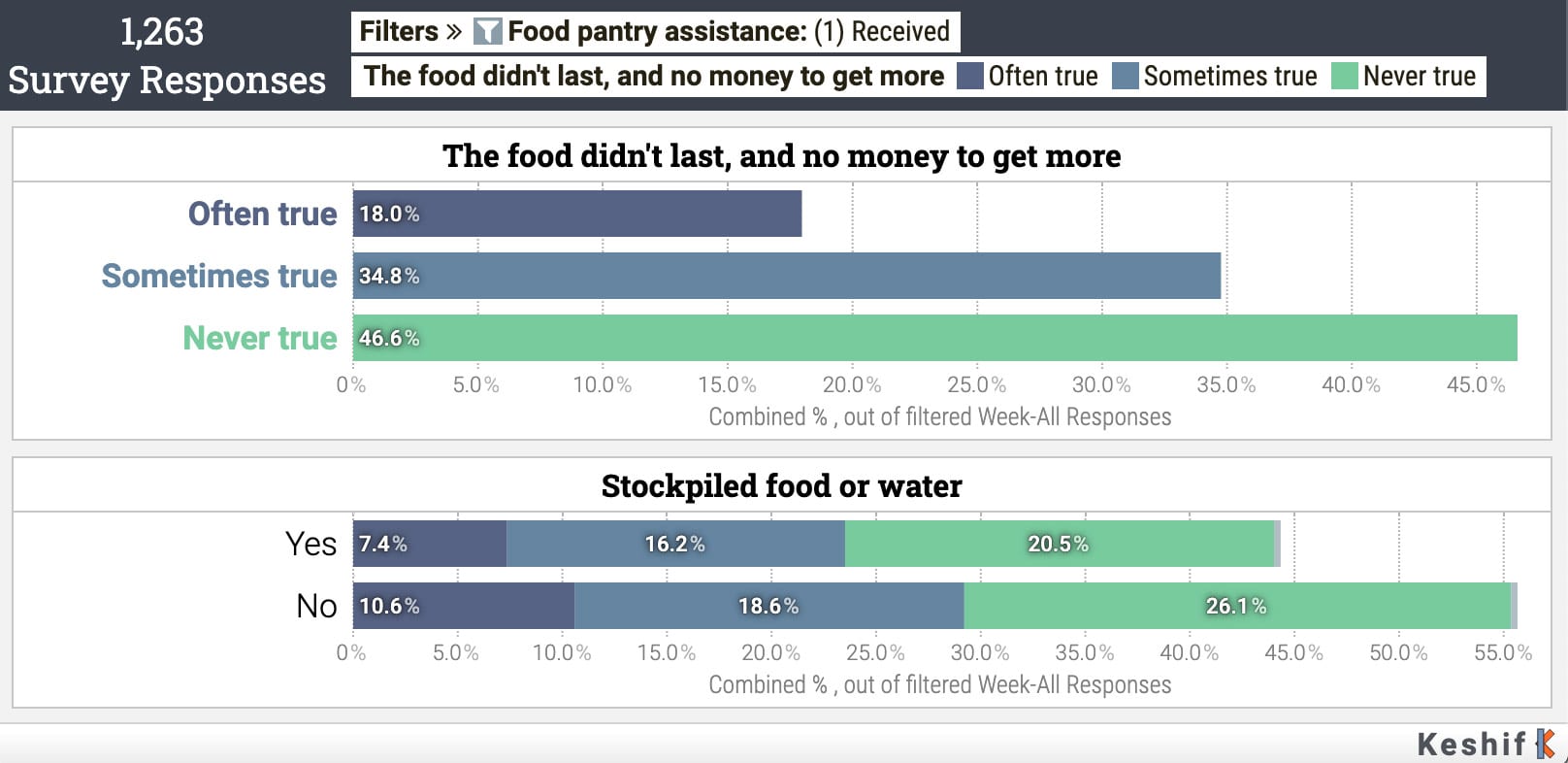 Food insecurity is a well-known instigator of poor mental health. Among the possible stressors amid a pandemic, not having enough money to eat can add a significant burden to families. Estimates from Feeding America suggest that families with children are at a greater risk for food insecurity.  Impacts from the pandemic could increase rates of food insecurity to one-in-four children.
This is a major problem – food insecurity is exacerbated in a pandemic from people losing jobs, income, and the free and reduced lunches provided at now-closed schools. Yet, one of the other populations most impacted by both the coronavirus and food insecurity is the elderly.
Some reports suggest that as many as 42% of those between the ages of 50 and 80 experience severe food insecurity. And many of these people experience some of the highest levels of risk for contracting the coronavirus, potentially risking hospitalization and even death. This set of stressors puts a significant amount of stress on those over the age of 50, who have to battle large risks to stay healthy.
Clearly, there are many ways this pandemic has impacted mental health across the world – from loneliness and depression to food insecurity. All of these stressors coincide to create an unprecedented environment for our brains to handle, not to mention the social turmoil that has dominated different regions of the world.
Let's all remember that it's okay to feel like the world has fallen apart – in many ways, it has. We all need to hold on, be resilient, and we will come out stronger on the other side of this.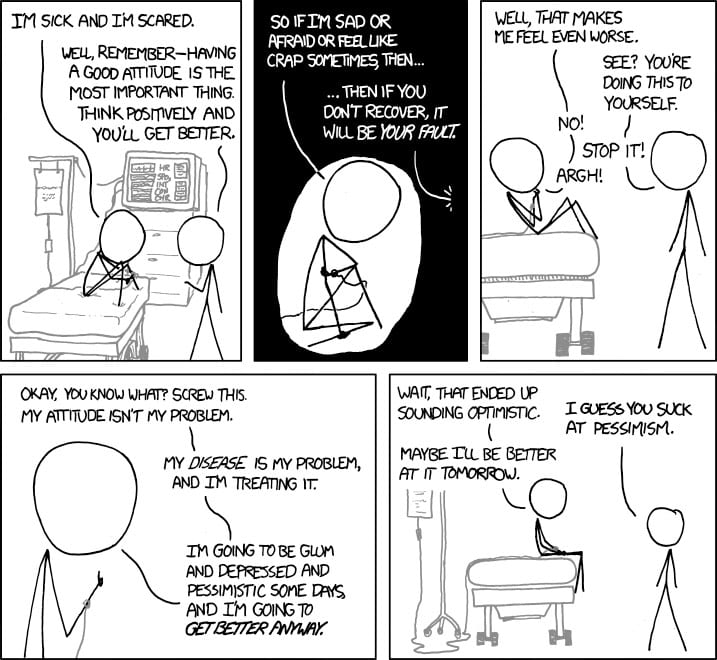 About the Author: Coleman is a technical writer for Keshif, a data scientist, and a current biostatistics PhD candidate at Vanderbilt University. You can find him on Twitter @colemanrharris and check out his work on his website, https://colemanrharris.me.
Note: The charts in this article are based on the COVID Impact Survey, conducted by NORC at the University of Chicago for the Data Foundation. Some charts have removed skipped responses.
The opinions and views expressed in any guest blog post do not necessarily reflect those of www.rtor.org or its sponsor, Laurel House, Inc. The author and www.rtor.org have no affiliations with any products or services mentioned in the article or linked to therein. Guest Authors may have affiliations to products mentioned or linked to in their author bios only.
Recommended for You Latest posts by Guest Author for www.rtor.org (see all)