When a doctor tells you that you have a disease with no cure, it changes your world. Even if the disease is one that you have heard of and that is controllable, the fact that this will be part of your life forever is shocking.
Diabetes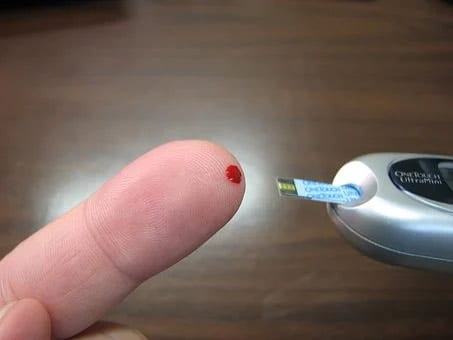 Diabetes is a chronic illness. The human body uses glucose (sugar in the blood) to give the body energy. The pancreas makes insulin, and insulin helps move the glucose through the blood and into the cells. The excess sugar is stored in the muscles and liver for energy that is needed later. When a person has type 1 diabetes, their autoimmune system attacks the pancreas and prevents the production of the hormone insulin. This means the sugar in the blood does not travel into the cells properly and does not provide the energy the organs need.
When you have type 2 diabetes, your body produces insulin. But it either does not produce enough, or it no longer uses the insulin correctly. To regulate your glucose, you must eat healthy foods in proper amounts. You also have to exercise and drink plenty of water. You use a blood monitor to check your blood after your meals.
You do this with a blood glucose meter.
Necessities
People with diabetes must pay close attention to their bodies. If they get a wound that will not heal, a blister or cut on their feet, or have problems with any kind of sickness, they need access to medical care. They must eat fresh food, and they often meet with friends to exercise together.
During the COVID-19 pandemic, people with diabetes were homebound. They could not shop for food. They could not go to the doctor when they saw something wrong. They had to be very careful with their supplies, making sure not to run out for fear of not finding more. They became isolated, afraid, and forgotten. This is cause for anyone to get depressed. Their walking groups could not meet. There was no one to talk to when things got scary. This could hurt anyone's outlook. Getting the blues is tough on anyone, but when you have an illness, you can go into a deep depression quickly.
Depression
Depression is a feeling of sadness, hopelessness, and lack of motivation. Depressed people sometimes sleep excessively and sometimes have trouble sleeping at all. There are changes in the diet (eating too much or not enough), life loses its meaning, and things that once brought you happiness and joy no longer do.
Hope
It seems we have finally made some progress with COVID-19. People are beginning to get out again without fear. Our lives are slowly returning to normal. Some of the things we started to do during the pandemic worked for us, and we are keeping those things in our lives. Here are some tips on keeping your spirits up.
Check with your medical professionals and see if you have an option for virtual visits.
Keep up with your friends via social media and phone. Be sure you work the buddy system and do not leave anyone out. It is important to make sure everyone in your group is checked on every day.
Keep a journal so you can track your progress and express your feelings
Do short workouts with YouTube. Your goal should be four 15-minute workouts per week.
Consider having groceries delivered. It may cost a little more, but use coupons to make up the difference. It is worth it when you save time and get fresh food brought to your door.
Allow sunshine in – open curtains. Sunshine is a natural way to cause your brain to produce "feel good" chemicals.
Keep yourself on a schedule.

Get up at the same time every day
Go to bed every night at the bedtime
There is no doubt that it has been a tough year. But better days are here. Concentrate on keeping your mind sharp and focused. Depression, like diabetes, cannot be "cured." But with a bit of effort and some professional care, it can be controlled. All signs point to a better year ahead.
If you or someone you know experiences mental health issues, it is important to seek help from a qualified professional. Our Resource Specialist can help you find expert mental health resources to recover in your community. Contact us now for more information on this free service to our users.
About the Author: Industry leader Ascensia is the maker of the Contour Meter Line. Ascensia has been in the business of helping people with diabetes for over 70 years. This was before they invented the Contour meters. In the 1940s, they invented a tab that could test urine in people with diabetes to detect the disease. In the 1950s, they made the urine stick that people could use at home. They continued to create state-of-the-art equipment until they had made the portable, highly accurate, Contour meter. The most popular meter today is the Contour Next Blood Glucose Meter. Click the link for more information.
July Is BIPOC Mental Health Month
In 2008 the United States government designated July as Bebe Moore Campbell National Minority Mental Health Awareness Month "to enhance public awareness of mental illness …. among minorities."
Bebe Moore Campbell was an American author and mental health advocate who wrote works of fiction, nonfiction, and children's literature about the harmful effects of racism and the mental health impacts on those affected.
Each July, www.rtor.org and its sponsor Laurel House, Inc. honor the legacy of Bebe Moore Campbell. We believe in using language that puts people first and emphasizes their individuality and unique contributions rather than their health or demographic status. Just as we do not refer to people living with schizophrenia as "schizophrenics," we avoid terms such as "minority" and "marginalized" when referring to BIPOC (Black, Indigenous, and People of Color) and BIPOC Mental Health Month.
Please join us in recognizing the unique struggles BIPOC face and bringing awareness to the need for adequate, accessible, culturally relevant mental health treatment, care, and services.
Our recent blog post, 8 Accessible Mental Health Resources for Black, Indigenous, and People of Color (BIPOC), contains several links to online resources promoting the emotional wellbeing and access to mental health care for these communities.
www.rtor.org and Laurel House are committed to the advancement of racial equity and social justice and to making mental health services available to all.
The opinions and views expressed in any guest blog post do not necessarily reflect those of www.rtor.org or its sponsor, Laurel House, Inc. The author and www.rtor.org have no affiliations with any products or services mentioned in the article or linked to therein. Guest Authors may have affiliations to products mentioned or linked to in their author bios. Latest posts by Guest Author for www.rtor.org
(see all)