Mental health apps are a positive start toward improved mental health in 2023. This article will be especially helpful to beginning users who are confused about where and how to start.  
These mental health apps can benefit anyone interested in health and wellness, as well as those with mental health conditions. They're a perfect fit for anyone in treatment and can be used in combination with online or in-person therapy sessions.
Mental health apps enable users to enhance their self-awareness, maintain their mood, anxiety, and stress, and build good habits by breaking bad ones. Together with therapy, they can reduce stress and anxiety and help people recover faster.
Top 5 mental health apps
These mental health and wellness apps were the most downloaded in 2022 and will continue to be used in 2023 and beyond. Each app has its benefits and uses, and they all have high user satisfaction rates.
#1 Headspace: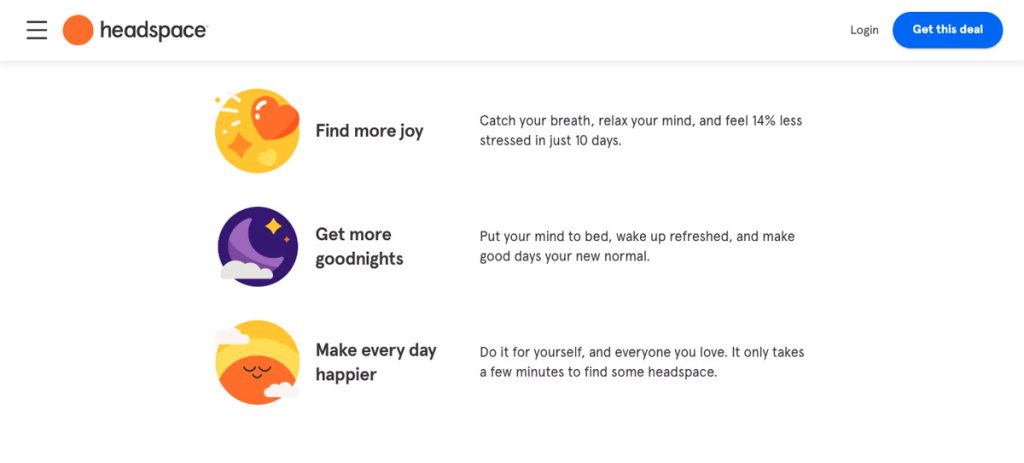 Why it's listed:
Headspace is a meditation app designed to support you in the reduction of stress through mindful exercise. 
The app provides an endless number of exercises for beginners as well as for advanced users.
The best exercises, such as meditation for sleep, breathing exercises to reduce stress, 'feeling overwhelmed' meditation, and mental chatter meditation, are the USPs (unique selling points) of Headspace.
The average exercise duration is from 2 to 20 minutes, which is good for those with less time in their schedule.
Pros:  
Higher user satisfaction
Affordable prices
Wide range of exercises
Easy to access anywhere
Cons:
No Free content
None of the meditations are longer than 30 minutes
#2 Talkspace: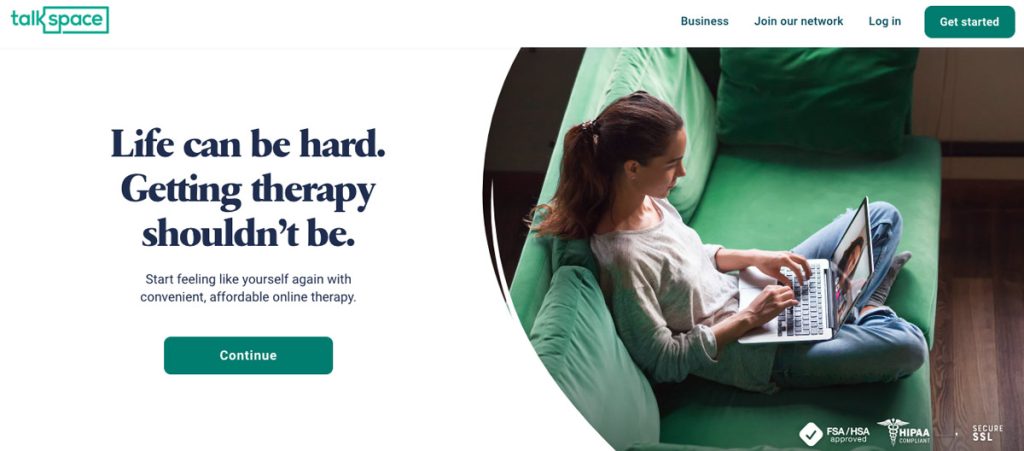 Why it's listed:
Talkspace gives you access to mental health professionals. Because of this, it is more expensive than the other apps here. Talkspace offers three subscription plans: Messaging Therapy with unlimited text, audio, and video messaging; Live Therapy with four forty-five minute sessions a month; and Live + Messaging Therapy.
With Talkspace, users can message their therapist anywhere, anytime, though the therapist may not respond immediately.
Pros:
Convenient, effective, and secure
Guaranteed response time   
Consult therapist directly
24/7 support system
Licensed therapists
Sessions with psychiatrists for medication management are also available
Covered by many private insurance plans
Cons:
Costlier
Not available to children under 12
Not covered by Medicare or Medicaid
#3 Moodkit: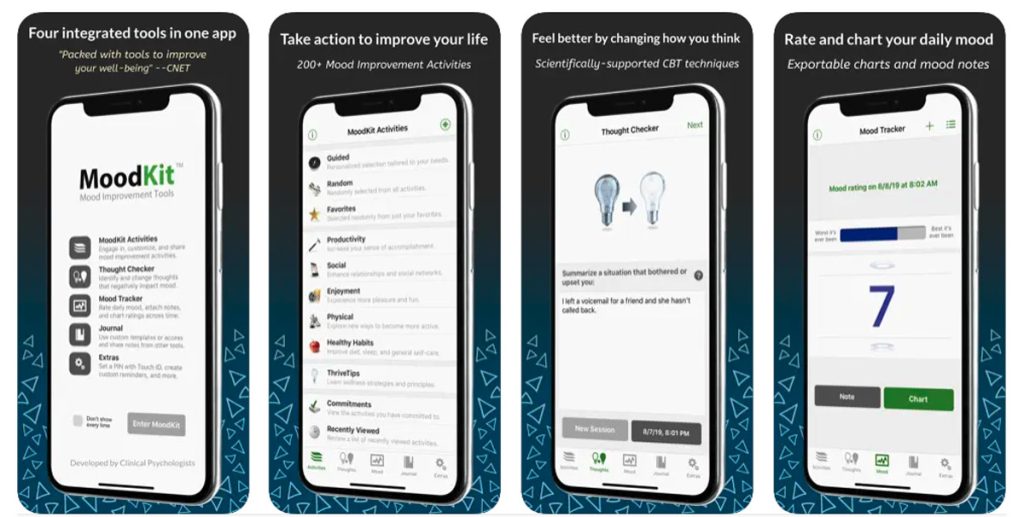 Why it's listed:
Moodkit is a mood tracker app developed by two clinical psychologists based on the principles and techniques of cognitive behavioral therapy (CBT).
It helps to keep your mood positive and change negative thinking. It offers around 200+ activities to boost your mood.
Pros:
Wide range of activities
Evidence-based
Features to track your progress
Cons:
Some users reported technical issues
Lower user experience  
#4 Calm: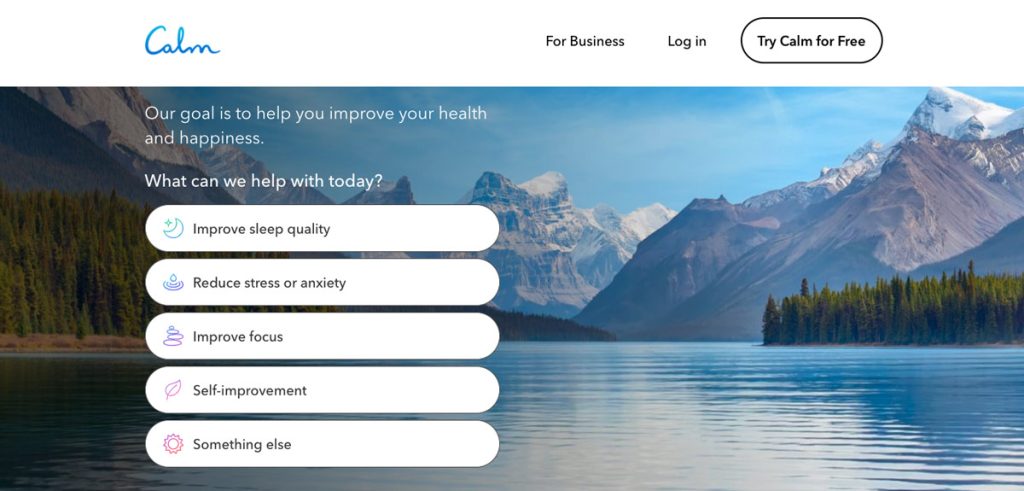 Why it's listed:
Calm is best for improving sleep, reducing stress, and improving focus. Calm provides mindfulness exercises that support you in managing stress and improving sleep and relaxation.  
Users can access video lessons and audio programs taught by world-renowned mind experts. Calm also supports users in enhancing their focus ability and reducing negative thoughts.
Pros:
Seek video and audio library
Track statistics
Improve sleep
Feel relaxed
Cons:  
Low customer service ratings
#5 iBreathe: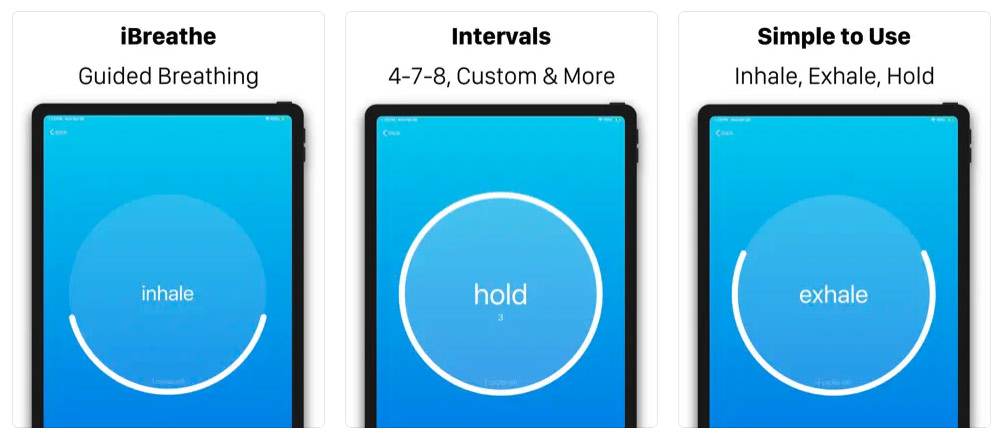 Why it's listed:
If you are a beginner looking for simple stress relief exercises, this app is a good fit for you.
It's totally free and has some simple breathing exercises for stress release. In addition, deep breathing exercise provides good results in overcoming mental health issues such as anxiety and depression.
Pros:
Easy to use
Free
User-friendly
Simple, easy exercises
Good for beginners
Cons:
Fewer exercise options
Only one feature
How therapists can utilize apps for virtual therapy
Today, mental health care has been transformed by online platforms. Patients can access care from the comfort of their homes.
However, handling large numbers of patients post-pandemic can be challenging for therapists. Administrative tasks such as booking appointments, scheduling meetings, and billing can be overwhelming for private practitioners. These tasks can be more easily managed using tech solutions such as mental health telemedicine apps.
Telemedicine has a high satisfaction rate, and many mental health care professionals are making the transition. 
How mental health apps can help people overcome mental health conditions
Mental health apps can help users form new habits for regular exercise, better nutrition, and healthier lifestyle choices. This is especially important for people living with mental health conditions.
Many mental health and wellness apps can make it easier for people to manage stress and reduce anxiety. Positive mental health can help you focus on your life goals and have a more rewarding life.
Those who continue experiencing symptoms and need more support should consult a healthcare professional and consider therapy, either online or in-person, to deal with their mental health issues.  
Final words
Mental health apps are beneficial whether or not you have a mental health disorder.
Remember, 'Self-care is how you take your power back.'  
If you or someone you know experiences mental health issues, it is important to seek help from a qualified professional. Our Resource Specialist can help you find expert mental health resources to recover in your community. Contact us now for more information on this free service to our users.
About the Author: Parth Patel is an entrepreneur and CEO of SyS Creations, a top healthcare app development company with decoded solutions like the best patient engagement software. Operating in the IT infrastructure of SMEs and startups keeps him on his toes, and his passion for helping others keeps him motivated.
Photo by Magnet.me on Unsplash
The opinions and views expressed in any guest blog post do not necessarily reflect those of www.rtor.org or its sponsor, Laurel House, Inc. The author and www.rtor.org have no affiliations with any products or services mentioned in the article or linked to therein. Guest Authors may have affiliations to products mentioned or linked to in their author bios. Latest posts by Guest Author for www.rtor.org
(see all)