This Thinking Well activity is designed to promote positive thinking in the daily lives of program participants. While the activity is designed for use in a group setting, individuals can also benefit:

Many of us have heard the term neuroplasticity, which is the idea that the adult brain is adaptable at any age and is capable of improving and even restoring cognition. Science supports the idea that through sustained mental activity you can rewire your brain and even train your brain to be more positive. This concept has important implications for people who have experienced mental illness and is the foundation for a workshop on the power of positive self-talk. The workshop consisted of first reading out loud an article on positive thinking, "Happy Brain, Happy Life," by Susan Reynolds and posted on Psychology Today. Participants then discussed the article and explored ways to incorporate positive self-talk into their lives. The group then created personal Affirmation Hearts to hang in a visible spot in their home as a daily reminder of all their positive qualities.
To create the Affirmation Hearts, participants were instructed to fold a colorful piece of construction paper in half and trace their hand, making sure the thumb and forefinger touched the crease of the fold. Next, they cut out the hand and used a marker to write positive traits about themselves on both sides of the hand. When done, participants opened the hands to a heart full of positive messages.
How the exercise helped participants:
Participants learned to challenge negative self-talk, which perpetuates inadequacy and prevents them from reaching their goals
When participants struggled to think of positive qualities in themselves, they were encouraged to assist their peers in identifying some traits, which reinforced self-esteem through peer recognition
Participants created a tangible piece of evidence to support their positive traits, which they could refer to daily and more specifically when the negative self-talk started to creep back into their heads
Participants learned more about the control they have over their thoughts, in addition to other techniques to promote increased self-esteem such as meditation; scheduling "me time," where participants could engage in enjoyable activities; and even keeping a "smile journal," where they could keep track of how many smiles they can elicit throughout the day
This activity was developed by Laurel House Recovery Coordinator and former Cognitive Remediation Specialist Janice Hilleman, LMSW.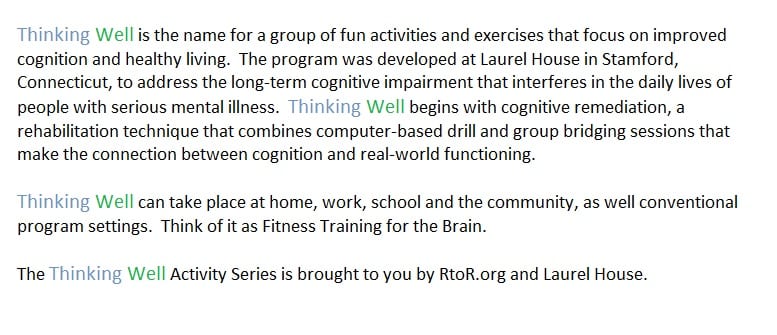 Throughout the month of May, RtoR.org will release a daily Post
of the Day in observance of Mental Health Awareness Month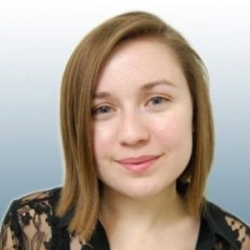 Latest posts by Veronique Hoebeke for www.rtor.org
(see all)