Don't you wish you could escape the pressures and stress of your daily life, even just for a few minutes? Well, you are in luck because I've discovered three amazing apps that can help you calm down when stress runs high. All three of these apps can help you de-stress and improve your mental health and wellness.
Both Calm and Pacifica are meditation apps that can help you find a few moments of serenity throughout your day. Brain Yoga puts a Zen-twist on brain-training games to help your brain improve while it calms you done. Calm, Brain Yoga, and Pacifica can be found in either the iTunes store or in the Google Play store. These apps have been downloaded between half a million to five million times with all three apps having a high rating of 4.9 in the iTunes store. These three apps are free to download but may require payment for full access to all of their features.
Calm
I found that the Calm app is a great tool for those who are new to meditation. This app knows that you have to start small when you begin meditating which is why it offers guided meditations in lengths of 3, 5, 10, 15, 20, or 25 minutes. These meditations can be on a variety of topics including anxiety management, gratitude, self-esteem, concentration, and better sleep.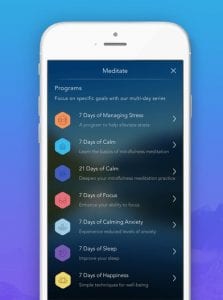 The Calm app has many other features including the Daily Calm which is a 10-minute meditation before bed. You don't have to be new to meditation to enjoy the app. Calm also offers programs for intermediate or advanced meditators. In fact, RtoR's Resource Specialist, Denise Vestuti recommends the Calm app. She says, "I like Calm because I find it helps me focus on my breath throughout the day which re-energizes me. I recommend this app for people who have stress and anxiety or anyone who wants to feel more relaxed and in the present."
Brain Yoga
I've been using Brain Yoga for several months and it's one of my favorite apps. I'm clearly not the only one who likes it as this app has been downloaded over a million times. Brain Yoga combines the soothing effects of a meditation app with brain training games.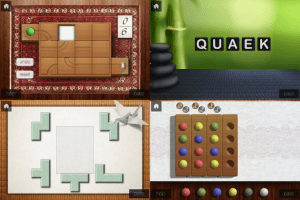 Brain Yoga offers a variety of games that help you build up memory, logical thinking, spacial reasoning, and language skills. The developers at Brain Yoga wanted to take the stress out of games so they took away the timer and high scores and added a soothing Zen-like environment complete with relaxing music. While the app markers don't site any sources backing up the scientific validity of these games, I can tell you from my experience that I was challenged by the games and was able to move up level after level as I continued using the app. I personally recommend this app to those who may be more fidgety than the average person. I am a nervous flyer and this app helped me to get through flights by making me focus on the game versus focusing on my uneasiness with being in the air. I do like meditation, but for high stress situations, I find that this app helps me calm down faster and for longer.
Pacifica
Pacifica helps you add meditation and wellness to your daily life. Much like Calm, Pacifica can help people who are new to meditation begin to add it to their routine. With a large selection in their meditation library, users can easily find a meditative exercise that works for them.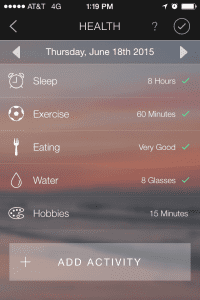 Pacifica has several tracking tools that give users a chance to record their health, thoughts, and moods. Inspired by cognitive behavioral therapy (CBT), this feature helps users identify any problematic patterns or triggers in their daily life. The app added a new feature of Guided Learning paths which are recorded audio lessons with psychologists who help users better manage stress, anxiety, or depression. You can also connect with others through the app for added support. I found that this app is perfect for when you feel stress starting to pile on and you need to take a break. It has helped me step back from stressful situations and reorient myself by doing a quick meditation with the app. I recommend that anyone who experiences even moderate levels of stress should try this app. For more information on Pacifica, you can read my full review.
All three of these apps are great tools for managing your mental health. Calm is perfect for those who are new to meditating. Brain Yoga is great for people who finds themselves fidgety and struggling to focus on meditation. Pacifica is extremely helpful for new meditators as well as those who want to take better care of their overall health. Have you tried one of these apps? Is there another mental health or wellness app that you use? Tell us in the comments.
Subscribe to our e-newsletter for more mental health and wellness articles like this one.
SUBSCRIBE NOW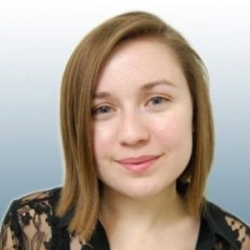 Latest posts by Veronique Hoebeke for www.rtor.org
(see all)