Pacifica is a free smartphone app that is designed to use the principles of Cognitive Behavior Therapy and Mindfulness to help with daily stress, anxiety and depression. With anxiety and depression being the most common mental health disorders, I'm glad that app developers are addressing this issue. There are six major aspects to Pacifica and each one has a special way of helping the user address with the causes of these common mental health issues:
Mood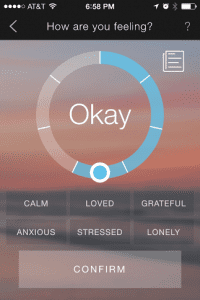 While using Pacifica daily for three weeks, I discovered how helpful it is to check in on your mental well being. Understanding the underlying thoughts and emotions that can trigger the onset of anxiety or panic attacks is an important part of managing an anxiety disorder. Several times a day, Pacifica would ask "How are you feeling?" which caused me to become aware of what was going on in my head. At work, when I was trying to manage several projects at the same time and was becoming a bit frenzied by the tasks at hand, I heard my phone's text message alert. Reading Pacifica's "How are you feeling?" notification caused me to take stock of my mental well-being and I realized I was at the beginning stages of stress because I was multitasking too much. If there had been nothing in my workspace that called attention to my thoughts and feelings, the stress and anxiety would have only increased.
Health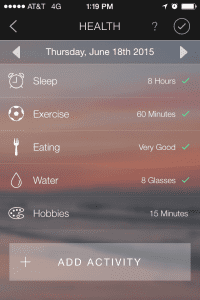 Being aware of your physical health is also important when managing anxiety and depression. Things like hunger, sleep deviation and lack of exercise can mess with our state of mental wellness. Pacifica has a way to help you manage all that. Under the Health icon, there is a wealth of activities for the user to choose from as a way to monitor their health. I tracked how much sleep I got, how long I exercises, the quality of my eating, the amount of water I drank and the time I spent doing hobbies. The user can choose other areas of health such as time spent with your partner or with friends or spending time outside.
Relax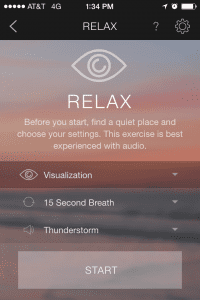 The Relax function is a great way to get into the meditating routine. Although I have tried to make meditation a part of my daily life, I have never been able to do it as consistently as I have with Pacifica. At the start of Relax, you can pick from a variety of soothing activities such as "Breathing", "Visualization", "Muscle Relaxation" and several others. All of them walk you through various mindfulness/mediation techniques. In the "Breathing" activity, you can choose how long you would like each breath to be and the app counts down your time inhaling and exhaling to be sure you that you breathing evenly.  You breathe in and out 8 times while listening to calming noises such as "Ocean waves", "White noise", "Summer night" and my personal favorite "Thunderstorm". After you finish the cycle of breaths, the app asks you how you are feeling. I was surprised that each time I used the Relax function my mood always improved.
Experiments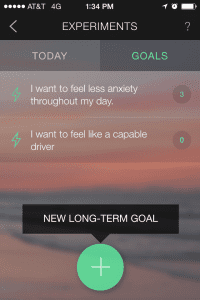 If you choose the optional upgrade ($3.99 a month) you receive the Experiment, Thoughts and Groups functions. The Experiment function helps you keep track of goals that can help you address your anxiety or depression. For example, people with social anxiety could create a goal of socializing outside of work once a week. For me, driving is a source of anxiety. I got my license later in life and still don't enjoy getting behind the wheel. So I set experiments for myself about parking in tight spaces, driving to unfamiliar locations and changing lanes at a fast speed, all things that I find anxiety provoking.I was able to work on my goal of becoming a more capable driving without feeling overwhelmed or anxious at the task at hand.
Thoughts
The only area of this app I didn't particularly care for was the Thoughts function. This area enabled the user to voice record their thoughts for that day then pick out the negative and positive thoughts. While this can be helpful for people with anxiety and other mental health disorders to vent their feelings and then analyze them, I found that I never had the privacy to use it. Most people can't take time out of their workday to record their thoughts and those who don't live alone seldom have enough space to speak freely about their inner emotional strife without others overhearing or interrupting. I can imagine that it's helpful for those who do have the time and privacy to do so but I found typing out my feeling in the Mood section of the app to be equally therapeutic.
Groups
This feature allows you to invite people to Pacifica in a confidential way which can be helpful for those who need support from loved ones to continue on their mental health journey.
While Pacifica and other mental health apps are no replacement for therapy, I can see the value Pacifica can add to someone's life in addition to therapy or shortly after stopping. It can also be very useful for anyone who needs to find a way to manage stress through their life. Overall, I found this app to be very user-friendly, enjoyable, effective and easy to incorporate into my daily routine. Pacifica can be found in the App store and in Google Play.
Subscribe to our e-newsletter for more mental health and wellness articles like this one.
SUBSCRIBE NOW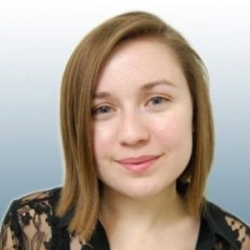 Latest posts by Veronique Hoebeke for www.rtor.org
(see all)