The following post is written by Drew Osbahr who uses his love of music as a way to recover from anxiety and depression. We are thankful that Drew has let us share his recovery story on rtor.org  -Veronique Hoebeke, Associate Editor 
Hi, my name is Drew and I have been recovering one step at a time from severe anxiety and depression in North Carolina. I want to give many thanks to my older brother, who is a doctor and sister-in-law, who is a nurse. Last year where I had been living in Florida for many years my life took a very steep spiral downward and I mentally hit rock bottom. I was out of work for awhile so money was very tight, bills piled up and I did not feel like eating so I lost a lot of weight. I did not feel like getting out of bed or even going out in public and I was always arguing with my wife and son. Unfortunately, my depression highly affected my 14 year marriage with my beautiful wife and relationship with my handsome 12 year old son. It got so bad that I started feeling that life is just not worth living. I learned that the demons try very hard to get the best of you and sometimes they do succeed. I spent about a week in the hospital and boy, was that a huge wake-up call! Especially to witness others that were worse off than I was. I thank the good Lord that my older brother traveled down from North Carolina and helped get me back up there for proper medical treatment. Being a doctor, he set me up with an excellent psychiatrist he knew who started me on the proper medication and set me up with awesome counseling.
I started getting better but still feeling a little down. Then I was watching last season's "America's Got Talent" and I saw a young lady, Anna Clendening from Chapel Hill, North Carolina who had the same anxiety and depression, get out in front of millions and wowed the audience and judges with a powerful rendition of Leonard Cohen's song "Hallelujah". I love to sing and have written lyrics to some songs and recorded them but due to my illness I stopped doing it and I thought well if she can do it then I can do it again. I was able to contact Vickie Clendening, Anna's mother and we had a very nice conversation about how I had the same illness and how her daughter's performance gave me the inspiration to get back on my feet and sing from the heart again. She thought that was very inspirational and would tell Anna!
I started writing the words and recorded a song for LeBron James leaving Miami and coming back home to Cleveland "King James Is Coming Back Home" sung to the tune of Michael Buble's "Home". It was played and posted on KISS-FM 96.5 Cleveland by a great guy, Java Joel, music director and afternoon DJ who highly encouraged me to put it up on YouTube and he would put it on their station's website. You can check out my video here.   I have also been a huge Bruce Springsteen fan since I saw my first show and met him in 1978. His inspirational concerts and music has helped me through some tough times over the years and I found out he battled severe depression as well. The last couple of months I have also been working on a book that has helped me with my therapy that my older brother, also a huge Boss fan, encouraged me to write entitled "True Tales From A Springsteen Fan Addict" about how I met him and how his music has inspired my life and got me through severe depression. When I was 7 my beloved mother unfortunately lost her battle with Hodgkin's Disease and I think that has always affected my life as well.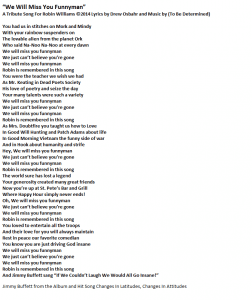 Recently, I have been working on and finished the lyrics to a tribute song for Robin Williams called "We Will Miss You Funnyman". It has been exactly one year since my brother and I were watching our favorite news anchor Brian Williams on NBC Nightly News announce to the world the untimely passing of Robin Williams apparently to suicide. I remember looking over at my brother with shock and disbelief in our eyes. I sat on the couch numb for awhile and realized he unfortunately got beat by those damn devil demons. He was an iconic comedian and actor and his passing literally shocked us and the entire world. My main goal is to record the song like "We Are The World" with friends of Robin or singers interested in being part of honoring him and helping others that are having major mental difficulties. I recently read that the World Health Organization estimated that every 40 seconds someone in the world commits suicide. This is just unbelievable so there is definitely a need to change this major problem ASAP but because of the stigma of depression people are afraid to tell others and reach out for help before it is too late for them.
All of this has thankfully helped me tremendously with my personal battle with depression. Life is definitely worth living and I hope coming out with my story will help others who are experiencing severe depression. Please just seek out help ASAP and there are a lot of resources including this awesome website that can give you immediate help just search the web now, keep your chin up and smile!
Take Care, Live Life Fully and Be Safe -Drew
Subscribe to our e-newsletter for more mental health and wellness articles like this one.
SUBSCRIBE NOW Latest posts by Guest Author for www.rtor.org
(see all)