Nearly 45 million American adults struggle with mental illness each day. To complicate matters, individuals who have mental health disorders are much more likely to struggle with substance abuse than the general population. Approximately 20 million American adults have a diagnosed substance use disorder, and over eight million Americans struggle with both a diagnosed substance use disorder and mental health disorder.1
These conditions affect people of all backgrounds, ages and cultures. Co-occurring disorders can be particularly difficult to treat, but they are treatable. It is important to understand how these two issues work together and how to treat both diagnoses at the same time for the best possible recovery.
The Relationship Between Mental Health and Substance Abuse
No one knows exactly why mental illnesses and substance use disorders co-occur so often. Most psychologists agree that each case is unique and there are a variety of reasons why these disorders are often diagnosed together. Some people experience mental health issues first, while others misuse substances before any mental illness symptoms begin. There are a few theories about how mental health and substance abuse interact:2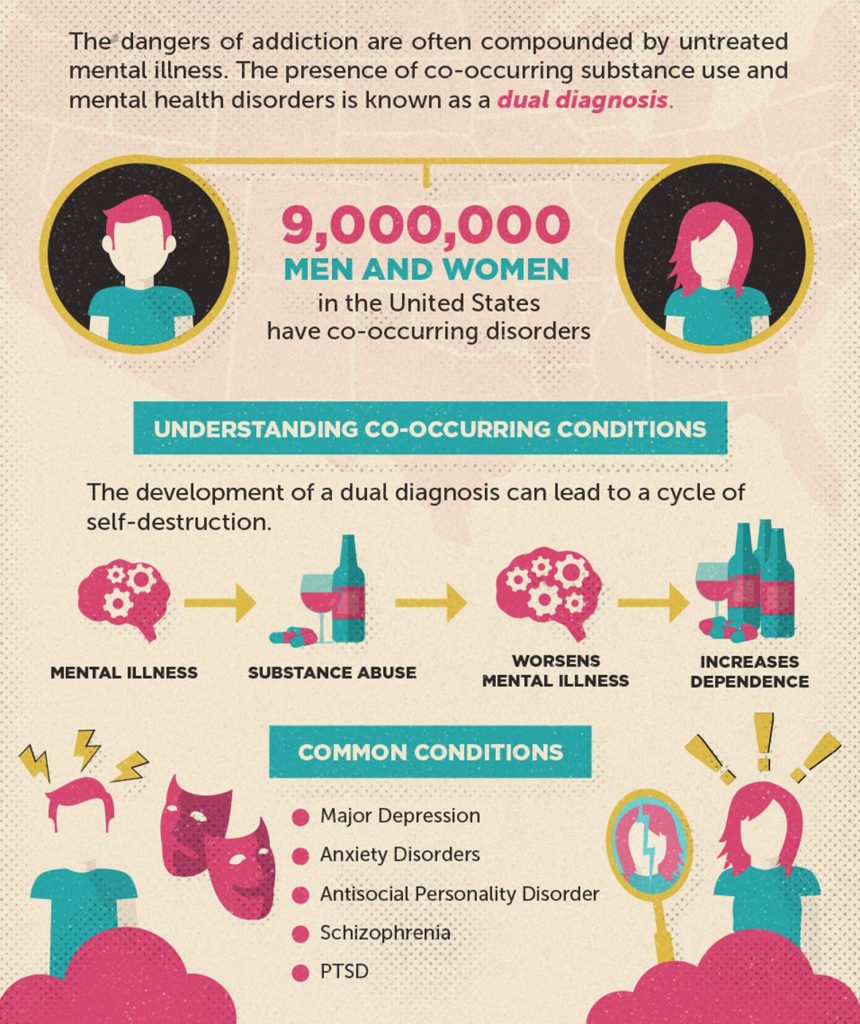 Mental illness can lead to substance abuse. People will often try to self-medicate debilitating mental health issues like depression, anxiety, intrusive trauma memories or hallucinations through the use of drugs or alcohol.
Drugs, alcohol and addictive behavior often make mental illness worse. Sometimes, substances increase the likelihood of psychosis or trigger latent mental illnesses in individuals who were already prone to various conditions.
Addiction and mental illness may have common roots. Both addiction and mental health disorders may be related to genetic heritability, exposure to trauma or ongoing stress, or even physical health conditions.
Help a Loved One Without Enabling Unhealthy Behavior
You may feel overwhelmed when someone you care about struggles with addiction or a mental health issue. You may experience a wide range of emotions, from concern to anger or helplessness. You can alleviate some stress by taking steps to help your loved one without enabling dangerous or unhealthy behavior.
Understand and accept the situation. The first step to helping another person is to acknowledge the reality of the situation. Identifying the full scope of the problem will help you develop clear, actionable goals. Addiction and mental illness do not get better without treatment. Remember to also take care of yourself and be gentle with yourself as you begin to understand this situation fully.
Learn to identify enabling behavior. Work with a trusted counselor or local support group to clearly define your own boundaries and how much you are willing to assist your loved one. Ask yourself if you are enabling your loved one in order to avoid looking deeper into a troubling situation. It is possible to help your loved one without accidentally encouraging his or her behavior. Understand that your loved one may resist healthy change because of fear of giving up a substance or fear of making big life changes. That fear may cause your loved one to become very manipulative, which is why you need to have clear, healthy boundaries.
Understand that you cannot "fix" your loved one. It is natural to want to make things better for your loved one as quickly as possible. There are ways you can help, but you cannot force another person to make deep inner changes. The well-known Serenity Prayer may offer a helpful meditation to get through this process:
God, grant me the serenity

To accept the things I cannot change,

The courage to change the things I can,

And the wisdom to know the difference.
Seek healing for yourself, too. It is not selfish to take care of yourself. You will be able to help those you love more if you become healthier and more informed. Support groups or counseling may help you find resources you had not previously considered. Your good emotional health will help you become part of your loved one's healing circle.
Seek treatment today. If you have been postponing treatment for yourself or your loved one, start by making a few calls today. Recovery from addiction is a life-saving process. It is important to become your own advocate and gather as much support as possible before it is too late.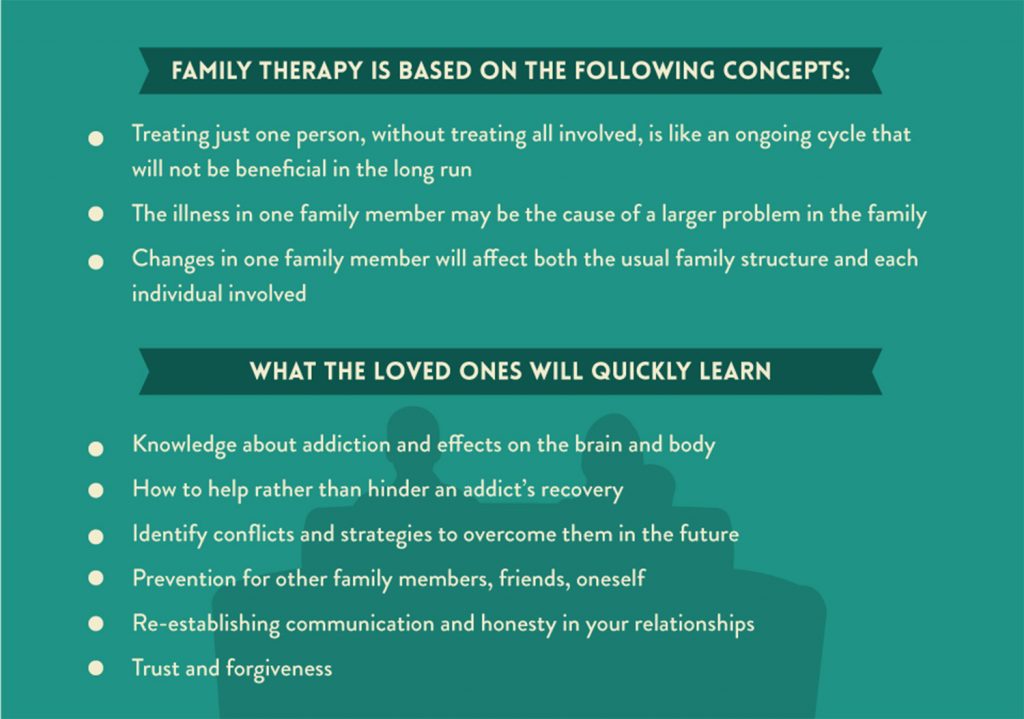 A Positive Future Is Possible
There are ways you can build a brighter future. It may help to read stories of other people who have overcome all odds and found recovery and resilience, such as those found at HeroesinRecovery.com. You may want to volunteer within your community. Or, you may wish to begin the journey closer to home by rebuilding your relationships with loved ones or the inner relationship you have within yourself.
It isn't always easy to accept support through counseling, healthy friendships or rehab treatment. Many people simply choose not to change because it does seem too difficult at times. The journey you begin today does not have to begin with a grand gesture — even the smallest step today can help put you on a path to a better tomorrow.
If you or someone you know experiences problems with substance abuse or mental health, it is important to seek help from a qualified professional. Our Resource Specialist can help you find expert mental health resources to recover in your community. Contact us now for more information on this free service to our users.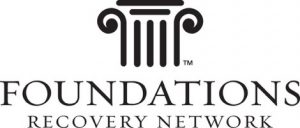 By Kathryn Taylor Millán, MA, LPC/MHSP
A writer for Foundations Recovery Network
The opinions and views expressed in this guest blog do not necessarily reflect those of www.rtor.org or its sponsor, Laurel House, Inc.
Sources:
Ahrnsbrak, R., et al. Key Substance Use and Mental Health Indicators in the United States: Results from the 2016 National Survey on Drug Use and Health. Substance Abuse and Mental Health Services Administration (SAMHSA), September 2017.
"Comorbidity: Addiction and Other Mental Illnesses." National Institute on Drug Abuse, September 2010. Latest posts by Guest Author for www.rtor.org
(see all)