A college campus can be overwhelming for any student, let alone someone who is recovering from a substance use disorder (SUD). There are many challenges to deal with every day—such as meeting class requirements, finding a place to fit in with new friends, and dealing with the increased availability of alcohol and other substances. With these dynamics, it can be difficult for a student to maintain a lifestyle of recovery. The good news is that colleges are beginning to recognize these challenges and are offering resources to help students in recovery find the support they need.
 The challenges of being a college student in recovery
In 2019, it is estimated that approximately 840,000 full-time students attending college will be in recovery. According to Dr. Eric Beeson, core faculty member at Counseling@Northwestern, these students face unique challenges that may include:
Explaining academic and legal consequences of past actions
Transitioning from a treatment setting to an academic setting
Disclosing recovery status to faculty and friends
Developing recovery support on or near campus
Balancing identity as a student and as a person in recovery
Finding recovery-friendly social activities
Managing triggers and peer pressure to use alcohol and drugs
Relearning life skills, such as time management and budgeting
Navigating stigma surrounding SUDs and recovery
 Substances abound on college campuses, which complicates the picture for students who are trying to maintain a sober lifestyle. The statistics reported in "Supporting Students in Recovery on College Campuses," from Northwestern University's online Master of Arts in Counseling program, reflect the extent of substance use among full-time U.S. college students:
7 million—students reporting binge alcohol use in 2017.
8 million—students reporting use of an illicit drug in 2017.
733,000—students who met the criteria for an alcohol use disorder.
487,000—students who met the criteria for an illicit drug use disorder.
Every college student faces challenges, but dynamics like these make it even more difficult for students who are in recovery—and may be the reason that some students leave. In fact, approximately 64 percent of students who leave college and no longer attend cite behavioral health–related reasons as the cause.
Finding support for yourself
Fortunately, universities are beginning to recognize the needs of students with a history of SUDs by creating collegiate recovery programs (CRPs), which are growing rapidly. By 2016, more than 145 colleges were offering CRPs around the country—a number that has increased from roughly two dozen that were offering them in 2012. As a result of the increased availability of CRPs, now at least 2.4 million college students on campuses across the country have access to recovery supports.
Although specific programs vary, CRPs generally provide access to additional resources and operate within frameworks in which students in recovery can support each other. Here are a few examples of offerings that may be available:
Dedicated physical space to gather
Paid trained, dedicated staff to assist students
Scholarships for students in recovery
Recovery seminars for academic credit
Relapse training
Recovery housing
Campus awareness campaigns
Sober social activities
Abstinence contracts and accountability measures
Drop-in centers where students can meet up
Academic mentoring
Recovery coaching
Professional counseling
You can find out whether your school—or one you may be considering—has a CRP on its campus by visiting the Association of Recovery in Higher Education's (ARHE).
 Providing support for a peer
If you have a friend who is in recovery, you can be a great source of support. According to Dr. Beeson, "allyship" can be a powerful support tool for students. In fact, some colleges even have formal ally programs. Anyone can become an ally for a peer who is in recovery or someone who is struggling with an SUD. The following graphic illustrates a few ways you can be supportive.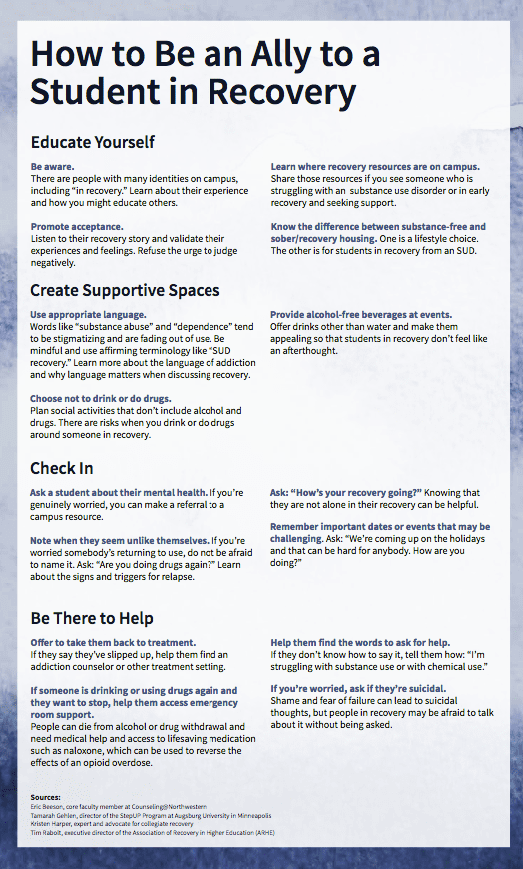 If you are in recovery or are struggling with SUDs, know that you are not alone. Help is available. For additional recovery resources, please visit Supporting Students in Recovery on College Campuses
If you or someone you know experiences mental health issues, it is important to seek help from a qualified professional. Our Resource Specialist can help you find expert mental health resources to recover in your community. Contact us now for more information on this free service to our users.
Sam Keller is a Digital PR Coordinator and supports outreach for 2U Inc.'s psychology and mental health programs. Find her on Twitter @_samkeller.
Photo by Zachary Nelson on Unsplash
The opinions and views expressed in this guest blog do not necessarily reflect those of www.rtor.org or its sponsor, Laurel House, Inc. The author and www.rtor.org have no affiliations with any products or services mentioned in this article or linked to herein. Latest posts by Guest Author for www.rtor.org
(see all)