Our lifestyle is already stressful. On the inside, we may strive for relaxation and calmness to stay clear of anxiety. Many of us are eternally sleep-deprived and victims of chronic anxiety. While we try to pass this off as the inevitable collateral damage of a modern lifestyle, these stressors end up taking a toll on our nerves, decreasing our mental capabilities and making us potential victims of various chronic diseases.
Unfortunately, the Covid-19 pandemic and resulting lockdown only make things worse. Instead of being worn out from overwork, we are stressed simply because of living indoors for a prolonged period. Though many restrictions continue, we must find our own ways to reduce this stress and improve our wellbeing. Fortunately, we have several great mindfulness apps that can reduce our anxiety, help us feel happy, and improve our sleep quality.
Here we will describe some of the most useful mobile apps for improving our sleep quality, free us from anxiety, and help us feel contented.
1: Calm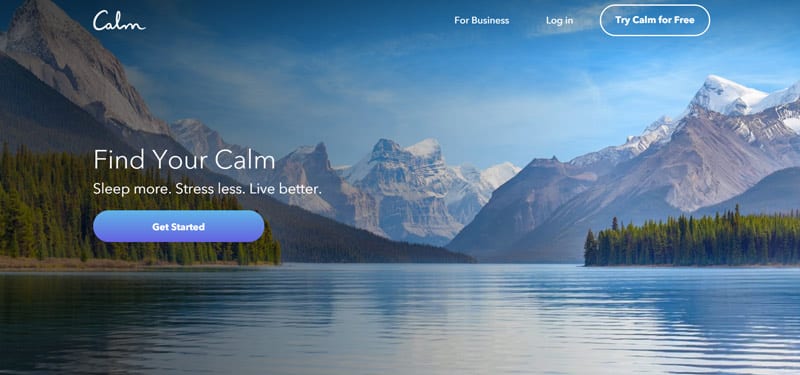 Among most experts, Calm is regarded as the best app for inducing sleep, helping in meditation, and reducing anxiety. With more than 50 million active downloads and multiple awards from both Apple and Google, Calm truly deserves to be the most popular mindfulness and calmness-inducing app across all mobile platforms. Calm is so successful in this niche simply because it offers exclusive content to help people learn the art of meditation and staying relaxed.
If you are still not convinced about the Calm app's effectiveness, you can opt for a 7-day free trial and then decide whether you should go for the paid version by paying $69.99 annually. If you end up becoming a regular Calm user, you can pay a one-time price of $399.99 and get a lifetime subscription for the app.
Some of the key features of the app include the following.
For helping you fall asleep fast and to cure your insomnia over time, Calm offers as many as 100 sleep stories, including ones from some well-known mentors.
Calm comes loaded with a robust music library offering ambient, classical, and contemporary music choices to boost your concentration and induce sleep.
The app offers a mood tracker that allows you to log in every day with a fitting emoji and an accompanying note that perfectly represents your mood.
There is a section showcasing guided stretches and exercises for meditation and sleep if you are still struggling.
 2: Insight Timer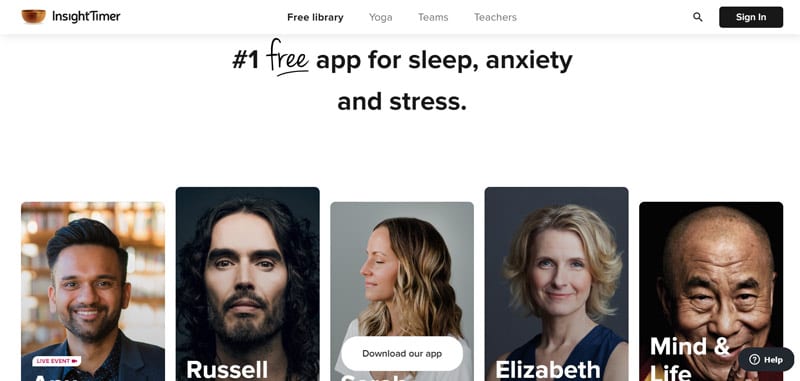 Insight Timer is another great mindfulness app loaded with everything you need to learn your way to meditation. The best thing about the app is that it comes with a whole array of free guided meditations along with a solo meditation timer. It is the best app for users who want an active meditation guide. The app also shows a world map with dots representing the number of active users of the app.
The biggest selling point of the app is its large library loaded with more than 45,000 guided meditations. While the free version offers access to this library of guided meditations, the app's handy features and functions are reserved for paid users. To help users sort out the guided meditations, users can search by topics.
Here are the key features of the Insight Timer app.
The app provides specific meditations to help people with anxiety during the pandemic.
It also offers a free collection of playlists to listen to during the pandemic.
The app comes with a useful meditation timer that allows you to set the meditation's timing and duration, with choices of ambient sound effects and music.
Insight Timer also offers a free collection of sleep music, soundscapes, and various sleep stories.
The app comes with a robust collection of music tracks and playlists ranging from ambient to classical music and several other options for your choice.
There is a paid plan for the app that offers more than 400 meditation courses.
3: Ten Percent Happier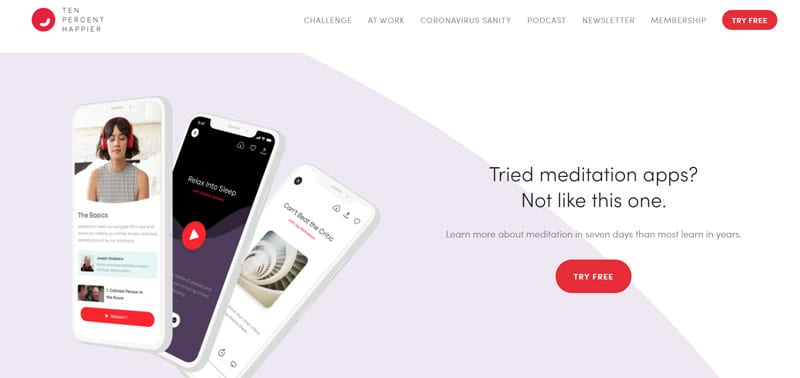 The Ten Percent Happier is a meditation app billed as a tool for all those first-timers skeptical about app-based meditation practices. Naturally, it is quite different from many apps with a more traditional flair. People who have severely decreasing attention span may find this app as an ideal choice.
The app's biggest draw is its relaxed and simple approach to meditation training that most serious apps in this category lack. Short byte-sized video lessons help new users get quickly oriented and start benefitting from meditation practices right away. The app offers a week-long free trial after which users need to pay a monthly or annual fee.
Let's have a quick look at the key features of the app.
It comes with a very simple and intuitive interface that instantly allows users to get oriented.
Users will find an array of short video lessons to help them become more mindful and attentive.
Paid subscribers get as many as 500 guided meditations and a lot of extra packages.
The app comes with reminders, so users don't miss a single session.
 4: Headspace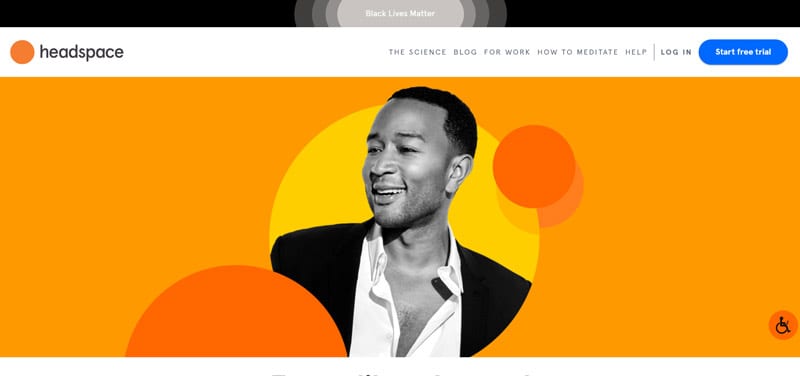 Headspace is regarded as the most powerful and widely acclaimed mindfulness app in the market today. For years Headspace has been the most well-known meditation app as well. First of all, you get an extremely engaging design with beautiful illustrations.
It has endless rolls of self-guided courses, quick meditation guides, and many sleep-inducing sounds to choose from. The app accommodates every kind of need when it comes to inducing sleep and making people feel relaxed. The app even has a section devoted to meditation for kids. Quite befittingly, the Headspace team calls the app a gym for the mind.
Let's have a quick look at the key features of the app.
Headspace now offers a separate section named 'weathering the storm' to help millions of people stressed by the prolonged homestay and panic caused by the coronavirus pandemic. This section helps people cope with the COVID crisis and resulting anxiety with meditations, sleep assistance, and many fitness sessions.
The Everybody Headspace feature allows real-time streaming of your meditation session. People wanting to share their meditation moments with close ones can find this feature very useful.
The app offers a section of stories called sleepcasts to help you get to sleep fast and comfortably. The app also offers guided meditation help, sleep radio, and various soothing soundscapes.
The 'move' section of the app helps promote mindful exercise sessions such as running, mobility, and stretching.
Headspace also offers many short animated video meditations that users can watch to learn about meditation
 5: Simple Habit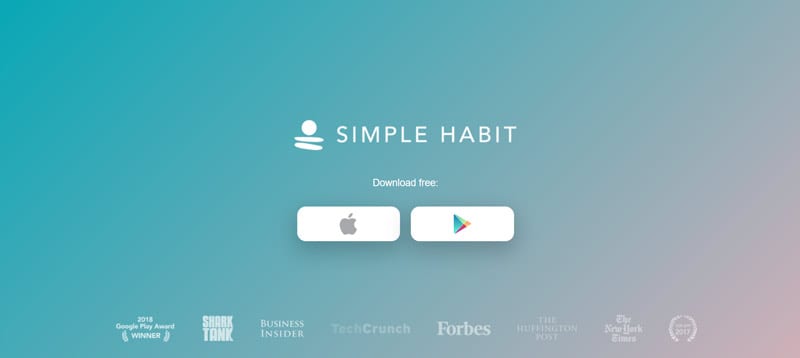 Simple Habit goes by the tagline 'five-minute meditation app for busy people.' The value proposition of allowing people to learn meditation practice quickly is evident from the way it works. Immediately after opening the app, you can set up a daily reminder for meditating.
Like other mindfulness and meditation apps, Simple Habit boasts of a large library of guided meditation tracks. The app offers you a quick starter meditation course right away. Simple Habit is ideal if you want a basic, useful app to help you get oriented with mindfulness and meditation practices in your spare time.
Let's have a quick look at the key features of the app.
The makers of Simple Habit introduced a robust collection of meditation and relaxation practices to deal with the anxiety and restlessness common in many people during COVID lockdown. There are guided practices lasting five minutes or for an entire session lasting for more than twenty minutes.
There is an 'on-the-go' button on the app's home screen that helps you choose the time duration for meditation exercises as per your availability. You can select among durations ranging from five, ten, or twenty minutes.
If you are still getting restless while going through meditation practices, you can opt for some movement-focused sessions for yoga and running.
To assist people in sleeping soundly, the app offers a fully loaded section with many sleep tracks. Here you can listen to soundscapes, sleep music, sleep meditations, and various sleep-inducing stories.
Simple Habit also boasts a large music library fully loaded with tracks, playlists, and music courses.
Conclusion
Mindfulness apps no longer represent a fad or a trending digital habit. They have become part and parcel of modern living because of the powerful way they help people combat anxiety and stress. If you feel yourself to be over-stressed and anxious about uncertainty during this pandemic, try using any of the apps mentioned above.

About the Author: Yakshit Bose is the Senior Developer at leading Custom WordPress Development Services Company CMARIX Technolabs Pvt. Ltd. He is an experienced WordPress developer. He likes to share his thoughts on Web development, CMS development, and Technology News.
The opinions and views expressed in any guest blog post do not necessarily reflect those of www.rtor.org or its sponsor, Laurel House, Inc. The author and www.rtor.org have no affiliations with any products or services mentioned in the article or linked to therein. Guest Authors may have affiliations to products mentioned or linked to in their author bios only. Latest posts by Guest Author for www.rtor.org
(see all)