When it comes to the human psyche and its imprint upon literature, no other writer is discussed and celebrated more than the Russian author Fyodor Dostoevsky. Also referred to as 'Shakespeare of the lunatic asylum,' his realistic portrayals of mental anguish and exploration of the darkest impulses of the human mind make for some of the greatest literature of the nineteenth century. Some of his most celebrated works are Crime and Punishment, The Brothers Karamazov, The Idiot, and Notes from the Underground.
Subjected to a traumatic mock execution in his youth and having battled depression, paranoid episodes, and hallucinations all his life, his experiences and observations have left a deep impact on art and popular culture after him, ranging from books, films, and paintings to even anime.
In this article, we'll discuss Dostoevsky's enduring legacy and his surprising presence in today's most iconic works of popular culture: Martin Scorsese's movie Taxi Driver, the popular anime series Death Note, and the paintings of Edvard Munch, most notably, The Scream.
The Mind of a Troubled Genius
Dostoevsky's remarkable understanding of human psychology stems mainly from his own experiences. He had epilepsy his entire adult life and wrote that he was grateful for his seizures since they created an "abnormal tension" in his brain, which led him to experience "unbounded joy and rapture, ecstatic devotion, and completest life." Depression and a horrible gambling addiction also kept him in perpetual hardship.
Apart from his afflictions, Dostoevsky also took an active interest in psychology as a subject. He read his contemporaries on the subject and deliberately used a psychological viewpoint to explain the actions of his characters. Many psychologists and philosophers held his psychological insight in high regard. Nietzsche once remarked that 'Dostoevsky was the only psychologist from whom I had anything to learn.'[1]
The grave turn of events in his life also fueled the darkness and introspection so characteristic of his works. Imprisonment and a mock execution in his youth stayed with him all his life, making a marked appearance in The Idiot, where Prince Myshkin observes how torture was better than a death sentence because, distracted by the wounds of the flesh, one was spared the spiritual suffering of the ordeal.
Dostoevsky's suffering characters have contributed time and again to popular culture. Let's look at three famed examples thriving in the pop psyche right now.
Taxi Driver: Modern Parallels
Taxi Driver follows the life of Travis Bickle, a loner in New York who gets by as a cabbie ferrying around suspicious passengers in the city's shady streets and alleys throughout the night. The mental turmoil in Travis' lonely life reaches a breaking point when Betsy, a woman he's interested in, rejects him. To break out of his numb, uneventful life, he decides to confront his shady surroundings and rescue an underage prostitute. 
The story very closely mirrors Dostoevsky's Notes from the Underground. Both follow isolated, frustrated men wanting to lash out at society in desperation and look good doing it. Both stories revolve around rescuing a young prostitute. Urban loneliness and the despair arising from it bind both works. Both men engage with society, one as a cab driver, the other as a bureaucrat, yet both suffer from boredom, loneliness, and disgust with their surroundings.
Martin Scorsese, director of Taxi Driver, spoke of the influence of Notes from the Underground on his film, saying that Travis felt very Dostoevskian to him. When he mentioned to writer Paul Schrader that he wanted to make a film on Notes, Schrader replied, "'Well, this is what I have—Taxi Driver,' and I said, 'Great, this is it.'"[2]
Death Note: Power, Morality, and Madness
Death Note follows the adventures of Light Yagami, a brilliant high-school student who comes across a notebook that kills any man whose name is inscribed in it. After learning of the notebook's powers, Yagami resolves to kill all criminals and rid the world of evil once and for all.
As time passes by, Yagami slowly convinces himself that he was, in a way, divinely ordained to kill these people. Just like Raskolnikov in Crime and Punishment, Yagami justifies the idea of killing people as a task only a superior man can carry out. Like the interactions between Raskolnikov and Detective Porfiry, Detective L is suspicious of Yagami and pursues him, too.
But unlike Raskolnikov, who, overcome with guilt, confesses to the murder of the old pawnbroker and her half-sister, Yagami goes on hardening his egoistic stance as a 'superman' even as circumstances have him begin murdering innocent people.
The Scream: Expressing Inner Turmoil through Art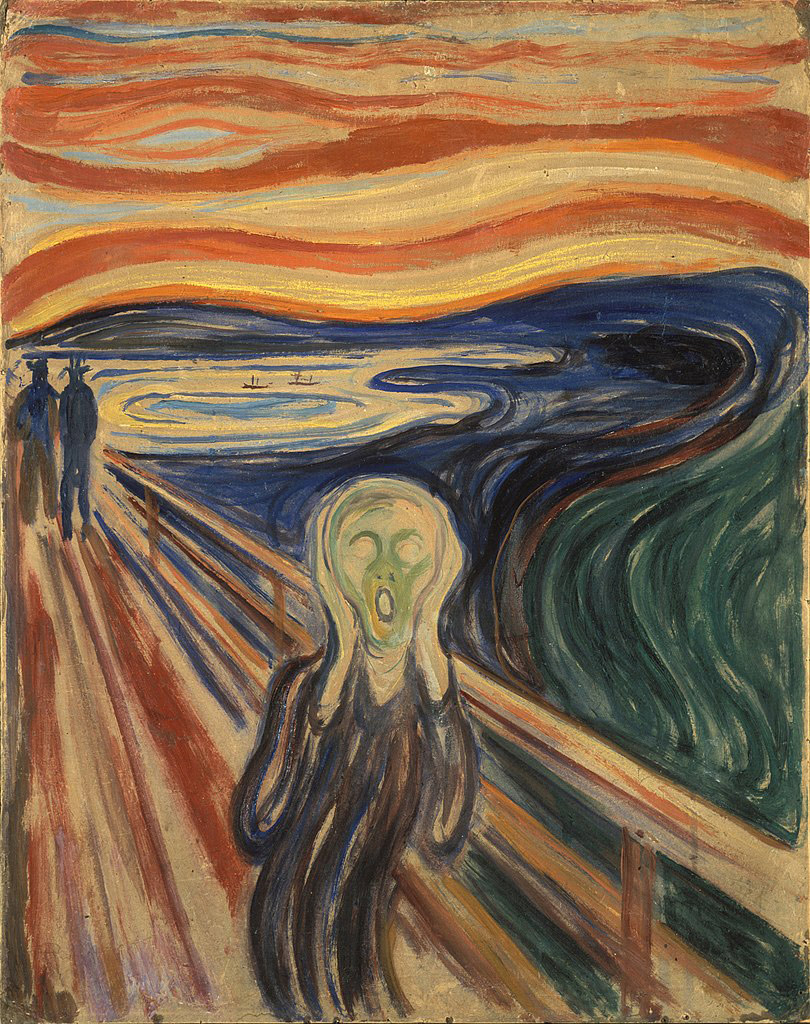 Nothing screams Dostoevskian horror and anxiety like Edvard Munch's The Scream. A popular internet meme, the Norwegian artist's 1893 painting of a man screaming in mute horror against a bright sunset has become as recognizable as Che Guevara's iconic face art.
Finding Dostoevsky's essence in The Scream is not surprising because Edvard Munch was very much a fan, effectively doing for art what Dostoevsky did for literature—drawing from man's inner void and struggles to bring out the complexity of humanity.
An ardent admirer, Munch even painted himself in the style Swiss artist Felix Vallotton once painted Dostoevsky in. When the famed painter died, he had a copy of Dostoevsky's Demons by his bedside.
Dostoevsky's Contribution to Understanding the Human Condition
Dostoevsky's work highlights the anguish and pain of the human mental condition. He articulated the suppressed psychological terror we have all felt at some point in life, and in doing so, he has become the metaphorical giant on whose shoulders visionary artists, poets, writers, and filmmakers today sit and explore such ideas further.
His complex life and detailed assessment of it make Dostoevsky and his works immensely valuable to the psychologist. Given his grasp of human psychological issues, many consider him a psychologist in his own right. Nietzche, as mentioned earlier, went ahead and declared him one. The depth of his personality and intellect is perhaps summarized best by Sigmund Freud's famous passage from his article Dostoevsky and Parricide:
"Four facets may be distinguished in the rich personality of Dostoevsky: the creative artist, the neurotic, the moralist, and the sinner. How is one to find one's way in this bewildering complexity?"
About the Author: Ashutosh Joshi is the founder of Top Tech Copy. He is a Google- and Hubspot-certified freelance writer who offers awesome guest posts and blogs on wellness and health technologies that will help grow your business. Check him out here: https://www.toptechcopy.com/
Photo by Lisa Fotios: https://www.pexels.com/photo/person-reading-book-while-sitting-1472841/
---
[1] Quoted in 'Is everyone mad?': The depiction of mental disturbance in the work of Dostoevsky, https://www.cambridge.org/core/services/aop-cambridge-core/content/view/93AA567E56C90363B561FCB6077AE6F8/S1355514600005344a.pdf/is-everyone-mad-the-depiction-of-mental-disturbance-in-the-work-of-dostoyevsky.pdf
[2] Scorsese and Religion, Chapter 3: Dostoevskian Elements in Scorsese's Cinema: https://brill.com/display/book/edcoll/9789004411401/BP000006.xml
The opinions and views expressed in any guest blog post do not necessarily reflect those of www.rtor.org or its sponsor, Laurel House, Inc. The author and www.rtor.org have no affiliations with any products or services mentioned in the article or linked to therein. Guest Authors may have affiliations to products mentioned or linked to in their author bios. Latest posts by Guest Author for www.rtor.org
(see all)