RtoR Family-Endorsed Provider Profile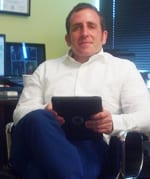 Dr. Scott Greisberg
Clinical Psychologist, Ph.D.
Harrison, NY
Scott Greisberg, Ph. D. is a clinical psychologist specializing in the treatment of anxiety disorders, mood disorders, stress management, and behavioral disorders of childhood and adolescence. Dr. Greisberg provides individual and group treatment for children, adults, couples, and families. Dr. Greisberg practices cognitive behavioral therapy, which involves making improvements in individuals' thoughts, feelings, and behaviors. Treatment is available in Westchester County and New York City. His work has appeared in scientific journals, and he has appeared on television and in print as part of his expertise in cognitive-behavioral psychological treatment CBPT.
Scott Greisberg, PhD
600 Mamaroneck Ave
Suite 411
Harrison, NY 10528
914-301-9469
Website
Directions
Family Member Quotes
"Scott has the ability to see right through to the heart of the issue. He 'gets' our daughter… Scott connects extremely well with young adults, using humor and things like movies, books, etc., to make connections."
"I feel that Scott has been instrumental in repairing our entire family structure… He is able to break things down into understandable, manageable pieces… He has great empathy and (our daughter) feels that he is unequivocally on her side."
"Finding the right therapist is an essential part of getting a child or young adult back on the right track.  I highly recommend Dr. Greisberg as a professional who can relate well to that age group."
Information and Referrals
Speak with a Resource Specialist about services and referrals to Dr. Greisberg.
Services
Cognitive Behavioral Therapy (CBT)
Cogmed Working Memory Training
Client Focus
Children
Adolescents
Adults
Couples
Families
Individuals and Groups
Mood disorders
Stress management
Behavioral disorders of childhood and adolescence
Accreditation & Qualifications
Certifications
New York License No. 016966
In practice since: 2005
Payment
Average Cost per Session:  $200
Accepted Payment Methods: Mastercard, Visa, check , or cash.
Dr. Greisberg in the Media
Publications
McKay, D., Piacentini, J., Greisberg, S., Graae, F., Jaffer, M., and Miller, J. (2006). The structure of childhood obsessions and compulsions: Dimensions in an outpatient sample. Behaviour Research and Therapy, 44, 137-146.
Levin, A. andGreisberg, S. (2003). Vicarious trauma in attorneys. Pace Law Review, 24(1), 245-252.
McKay, D., Piacentini, J., Greisberg, S., Graae, F., Jaffer, M., Miller, J., Neziroglu, F., andYaryura-Tobias, J. A. (2003). The Children's Yale-Brown Obsessive-Compulsive Scale: item structure in an outpatient setting. Psychological Assessment, 15(4), 578-581.
Greisberg, S. and McKay, D. (2003). Neuropsychology of obsessive-compulsive disorder: a review and treatment implications. Clinical Psychology Review, 23(1), 95-117.
McKay, D. and Greisberg, S. (2002). Specificity of measures of thought control. Journal of Psychology, 136(2), 149-160.
Dr. Greisberg's Treatment Philosophy
"I have a very open and straightforward style of conducting treatment. I educate the patient about the factors that have contributed to his/her problems and I instruct the patient in how to make important changes and improvements. It's necessary for me to be sensitive to my patients' needs and abilities and it's important for patients to be willing to work hard to make some challenging improvements. "