RtoR Family-Endorsed Provider Profile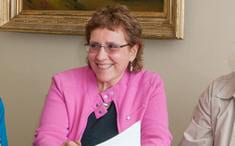 Regina Colangelo, LCSW
Psychotherapist
Rye, NY 

Regina Colangelo, LCSW is a psychotherapist with a private practice in Rye, New York. She offers individual counseling, couples counseling and family therapy. Regina brings compassion, knowledge of human dynamics and relationships to her practice. She focuses on people's strengths and desire to change, working to transform and improve relationships.
Regina Colangelo, LCSW
Psychotherapist
Rye, NY
(914) 934-8861
Directions
Client Testimonial
"From the beginning of my therapeutic relationship with Regina, I found her to be extremely warm, compassionate and very knowledgeable on various topics. Regina has taught my husband and I many strategies which has led us to reconnect and regain a healthy, fulfilling marriage. I've always felt validated by Regina and her style has allowed me to gain a sense of confidence and a real sense of security within myself as well as in my relationship with my husband. I can't thank Regina enough for all of her guidance, support and knowledge."
Information and Referrals
Speak with a Resource Specialist about services and referrals to Regina Colangelo, LCSW.
Services
Individual therapy
Couples therapy
Family therapy
Client Focus
Adults
Children/Adolescents
In practice since: 1993
Accreditations & Qualifications
1994 Social Worker of the Year, Westchester County Chapter of the National Association of Social Workers
Certificate of Recognition from the Westchester County Executive for Professional Service in the Field of Domestic Violence
National Association of Social Workers
The New York State Society for Clinical Social Work
New York Center for Emotionally Focused Therapy
International Center for Excellence in Emotionally Focused Therapy
Education

New York University Graduate School of Social Work
Masters in Social Work
Certifications

NY State Licensed Clinical Social Work #R019095
CT State Licensed Clinical Social Work #003252