I experienced a happy childhood in many ways.  My father was a college professor, and my mother had a medical transcription business at home.  I was loved and cared for.  Seven years after my birth, my sister Laura came along.  She was a joy and a delight to me.
I attended a private school, and I did very well.  I was involved in drama and orchestra, and I received mostly A's on my school work.  I also had a baby-sitting business and loved to give to others.  I especially loved doing creative projects with children and also entertaining my sister.  She and I have always been close.
However, something started happening to me emotionally in my early teen years.  I started getting paranoid and anxious.  I drove myself hard to do well.  I thought God was mad at me.  My faith had always been a major part of my life, and I felt like God wanted me to do better.  I slept in my bedroom closet in my sleeping bag to quiet my mind.  I was tormented by intrusive thoughts and beliefs that hurt me.
My parents were concerned and drove me to a psychiatric hospital.  The people who worked there were kind and understanding.  One mental health worker, a man named Reggie, told me to go to my room's mirror.  He said, "Now look in the mirror and say one nice thing about yourself."  I will always remember that.  At first, I was embarrassed.  Then I realized I could say at least one kind thing towards myself.
I returned home.  However, I continued to struggle.  In 1994 after I graduated from high school, I was hospitalized again with a nervous breakdown.  I was diagnosed with schizophrenia.
That began a series of many hospitalizations and turmoil for me and my mother and sister.  My dad divorced my mom, and that added to the drama and trauma.  At one point, I thought the voices were telling me to flush all my medication down the toilet of my apartment.  I did, and I became psychotic and lost a lot of weight very quickly.  One cold February night, I got in my car and drove to a nearby town.  My car battery died.  Thankfully there was a police officer who started my car.  I sped back to the town where I lived.  I was terrified and ranting.
My sister was worried about me.  I had been calling offices and strangers and leaving wild messages.  I called my pastor and a man I used to baby-sit for.  I was experiencing hallucinations and delusions.
Laura drove from where she was working at the time, which was a couple of hours away.  She sat in front of my bathroom door and pleaded calmly with me to go with my mom and her to a hospital in Kansas City.  I didn't know if I could trust her but I agreed.
At the hospital, my recovery journey began.  I was put on wonderful medication that had just come out on the market.  I was accepted and loved there at the hospital.  My psychiatrist is the head of the inpatient psychiatric unit there, and he has been my doctor for thirteen years.  I also see a social worker now who I have seen for thirteen years as well.  Both of these wise men have influenced me and my recovery.
The journey that really made a huge difference in how I see myself is how I started to reach out to other folks with mental illness.  I have traveled to share my story, and just offering hope to people in need of some light at the end of the tunnel has really blessed me.
I started a gift card drive for a local non-profit in my town that helps individuals experiencing mental illness.  My sister and her husband participated, and the clients have been so happy and thankful.
There has been a way made for me through my participation in my treatment and also adopting an attitude of gratitude and giving back.  I now have a passion and a drive to help those experiencing mental illness.  I want to share my story.  I want to shine a light.  I want to help and reach out.  After all, that gives me hope too.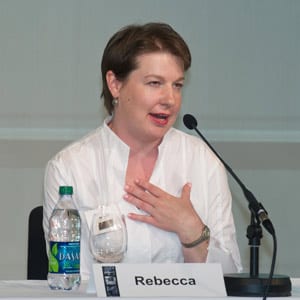 About the Author: Rebecca Lyn Phillips is a published author, speaker, and mental health advocate.  She regularly shares her story of trial and recovery to help others who need hope.  She wants to shine a light on a dark subject and show that life can happen again.
The opinions and views expressed in this guest blog do not necessarily reflect those of www.rtor.org or its sponsor, Laurel House, Inc. The author and www.rtor.org have no affiliations with any products or services mentioned in this article or linked to herein. Latest posts by Guest Author for www.rtor.org
(see all)