RtoR Family-Endorsed Provider Profile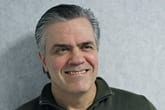 Christopher Sorenson, LCSW
Clinical Social Worker
Family Study Center, Inc.
Danbury, CT
Christopher Sorenson, LCSW is a licensed clinical social worker at Family Study Center, Inc. in Danbury who works with groups, individuals, couples, and families. Christopher Sorenson's style is focused on establishing a therapeutic environment conducive to clients feeling comfortable to address their concerns as they develop coping strategies. He specializes in mood, personality, and substance disorders, changing addictive and problematic behaviors, legal problems, relational issues and family conflict, as well as wellness based on self-understanding and awareness.
Christopher Sorenson, LCSW
Clinical Social Worker
Family Study Center, Inc.
57 North Street, Suite 419
Danbury, CT 06810
Website
Family Member Quote
"Chris is a fantastic social worker who meets weekly with our teenage son for 30 minutes. He is available and flexible in the way he works with his young clients. He comes across as very easy-going, but he challenges our son to get to a better place. He also gives him the strategies to get there, and praise, when it is due. He has a fantastic rapport with our teenager."
Information and Referrals
Speak with a Resource Specialist about services and referrals to Christopher Sorenson.
Services
Family Support/counseling
Group therapy
Client Focus
Adolescents
Adults
Attention deficit disorder (ADD)
Behavioral disorders of childhood and adolescence
Eating disorders
In practice since: 2002
Education
University of Connecticut School of Social Work, Storrs, CT
Certifications
CT State Clinical Social Worker License #: 6160
Payment
Christopher Sorenson is an "out of network" provider, Please visit http://www.family-study-center.com/policies.html to contact Family Study Center, Inc. for more information.