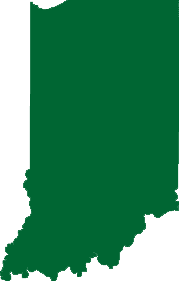 Indiana has a population of approximately 6.6 million people. Close to 4.5% of adults in Indiana (according to SAMHSA) live with serious mental health conditions such as schizophrenia, bipolar disorder, and major depression.
Public mental health and substance services in Indiana are administered and provided by the Indiana Division of Mental Health and Addiction (DMHA).
Only 43.6% of adults with mental illness in Indiana receive any form of treatment from either the public system or private providers (according to SAMHSA). The remaining 56.4% receive no mental health treatment. According to Mental Health America, Indiana is ranked 45 out of the 50 states and Washington D.C. for providing access to mental health services.
Medicaid is a combined state and federal program that provides health coverage to people with low income, including those who are unable to work because of a mental health disability. Residents of Iowa can apply for Medicaid (called IA Health Link in Iowa) through the Indiana Health Marketplace.
Other Indiana Resources
Indiana Division of Mental Health and Addiction (DMHA)
Indiana Medicaid
Indiana 211 – 2-1-1 is a free referral and information helpline that connects people to a wide range of health and human services, 24 hours a day, 7 days a week. To contact 2-1-1 in any state, including Indiana, simply dial the numbers 2-1-1 from any phone.
National Alliance on Mental Illness–Indiana – The National Alliance on Mental Illness is a nationwide advocacy group, representing families and people affected by mental health disorders in the United States. The national organization is organized into state and local affiliates, of which NAMI–Indiana is one.
Mental Health America of Indiana – Founded in 1909, Mental Health America (MHA), is the nation's leading community-based nonprofit dedicated to addressing the needs of those living with mental illness and to promoting the overall mental health of all Americans. MHA Indiana is a state affiliate with thirteen subsidiaries that specialize in services for mental health, including trauma therapy, suicide prevention, and addiction counseling. It is also Indiana's largest mental health advocacy organization. @MHAofIndiana