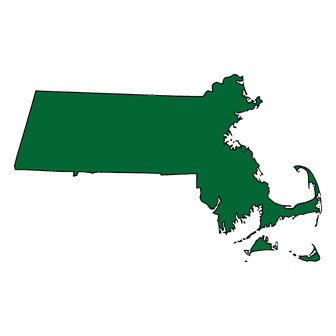 Massachusetts has a population of approximately 6.7 million people and is the 3rd most densely populated state in the nation. Close to 3.71% adults (according to SAMHSA) in Massachusetts live with serious mental health conditions such as schizophrenia, bipolar disorder, and major depression.
Public mental health services in Massachusetts are administered and provided by the Department of Mental Health. Substance use and addiction treatment services in Massachusetts are overseen by a separate agency, the Bureau of Substance Abuse Services.
Only 53.8% of adults with mental illness in Massachusetts receive any form of treatment from either the public system or private providers (according to SAMHSA). The renaming 46.2% received no mental health treatment. According to Mental Health America, Massachusetts is ranked 2 out of the 50 states and Washington D.C. for providing access to mental health services.
Medicaid is a combined state and federal program that provides health coverage to people with low income, including those who are unable to work because of a mental health disability. Residents of Massachusetts can apply for Medicaid (known as MassHealth in Massachusetts) through Massachusetts Health Connector.
For free personalized help finding mental health resources in Massachusetts, Contact Us today.
RtoR Family-Endorsed Providers in Massachusetts
Our Directory of Family-Endorsed Providers features multiple mental health resources in the state of Massachusetts. All of the Massachusetts providers listed below have been recommended by a family member of a person who has used their services and have been carefully vetted by our Advisory Group.
All Family-Endorsed Providers have three defining characteristics. They are recovery-oriented, embracing the principle that recovery is a real possibility for all people with mental health conditions. They are family-friendly, including family members in the treatment process. They use evidence-based best practices that are backed by scientific research.
Boston Children's Hospital-Adolescent Substance Abuse Program
Jennifer A. Ford, PsyD
Joel Goldstein, MD
Carla Kenney, LMHC
Svetlana Leeds, PsyD
McLean Anxiety Mastery Program
McLean Gunderson
McLean Obsessive Compulsive Disorder Institute 
Prakash Ellenhorn
rtor.org is a national website that offers families guidance, support and best practice resources for recovery-oriented mental health care. For free personalized help finding mental health resources in Massachusetts contact a Resource Specialist now.
Other Massachusetts Resources
Massachusetts Department of Mental Health (DMH)
Massachusetts Bureau of Substance Abuse Services 
Massachusetts Medicaid
Massachusetts 211 – 2-1-1 is a free referral and information helpline that connects people to a wide range of health and human services, 24 hours a day, 7 days a week. To contact 2-1-1 in any state, including New York, simply dial the numbers 2-1-1 from any phone.
National Alliance on Mental Illness–Massachusetts – The National Alliance on Mental Illness is a nationwide advocacy group, representing families and people affected by mental health disorders in the United States. The national organization is organized into state and local affiliates, of which NAMI–Massachusetts is one.
Contact a Resource Specialist about Mental Health Resources in Massachusetts.