To live life means to go through a series of roadblocks in our journey, but what happens when the roadblock stems from a mental health disorder? Every mental health disorder is unique and no one goes through similar symptoms or experiences. Each and every person's experience is distinct. And any mental health disorder can bring hardships when first diagnosed.
The Basics of Schizoaffective Disorder
According to NAMI, schizoaffective disorder, is seen in about 0.3% of the United States population. Though it may not be as prevalent as major depression or anxiety, it has a huge impact on the lives of those who live with it. For the longest time, schizoaffective disorder has been stigmatized for its similarity to schizophrenia.
Combining the symptoms of schizophrenia and a mood disorder, schizoaffective disorder has been widely misdiagnosed as bipolar disorder. Due to schizoaffective disorder being less well- known than other disorders, there are still new medications and treatment for it in development.
Although it is not a common disorder, there are still ways to live a normal functioning life with it.
How Schizoaffective Disorder Affected My Life
I was diagnosed at the young age of eleven and since then have managed to come out on top. I can remember having hallucinations during school where I would see people swarming around me. In reality, I was in the hallways by myself.
It was frightening not knowing what was real and what was not. I would perceive myself as the equivalent of the monster that I saw in the mirror before going to bed, which resulted in shrinking myself to occupy less space than what I was given. I could no longer see the greatness imbued in my veins.
I felt alone in this, believing that no one would ever even minimally comprehend what I was going through. Eventually, I began to open up to my therapist and psychiatrist about what had been going on in school and at home. Telling them that I was seeing people and hearing voices that were not truly there was the most difficult thing that I had to do.
Therapy sessions became longer in my eyes as we began exploring coping mechanisms to help with my disorder. I quickly identified painting, drawing, and baking as my main coping skills.
What many people seem not to understand is that self-care is important in today's society more than ever.
Self-care can range from watching a show to de-stress or going for a jog around the park. Taking a few minutes or hour to take care of yourself and nurture yourself is ideal. Life can seem fast-paced on most days, especially for young adults, which is why taking a moment to stop and breathe can make a huge difference.
What I Learned
I learned to reach out when the objectives that I wished to achieve would not come to me. It is no easy task to ask for help. Mental health is stigmatized so heavily that many older teens and young adults, such as me, may stray from going to get the help that they deserve.
In the end, mental health is as important and crucial to our survival as physical and spiritual health. We should treat our bodies like our temples and worship them for all the strength they have and all the pain they have endured.
Yes, schizoaffective disorder made me live my life with fear at first, but in the end, it is only as scary as the boogey man hiding in a child's closet – the monster does not exist. We are not monsters for having these disorders. We are simply human beings living life as fully as we can.
Although some days I still struggle with my disorder, I have learned to enjoy the euphoria behind it all. I still get to live my life as I choose to because of the medication and coping skills I have. I still have friends and family supporting my journey in life, despite this disorder. Finally, I still maintain my passions on a day-to-day basis.
Our lives are only as valuable as we choose to see them, which is why we should take immense care of ourselves. Thanks to being able to take care of myself, I have managed to see the light at the end of this long, narrow, and dark tunnel.
I can now say with a smile on my face that I sought help when I needed it the most and thanks to that, I have a beautiful family, consisting of a wonderful husband and a darling baby girl. I may have schizoaffective disorder, but I am not my disorder. I am the wind blowing through the trees and the water flowing beneath bridges. Every single one of us is more than what lies in between the gaps.
Let us try to end the stigma around schizoaffective disorder and instead replace it with the characteristic of strength. All those who have a mental health disorder embody strength and a perseverance that is admirable.
If you or someone you know experiences mental health issues, it is important to seek help from a qualified professional. Our Resource Specialist can help you find expert mental health resources to recover in your community. Contact us now for more information on this free service to our users.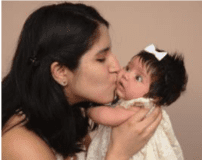 Author Bio: Geraldine Spiegle is a military spouse and a mother to an incredible baby girl. She volunteers for Crisis Text Line on the weekends in hopes to help others the same way she was helped. Latest posts by Guest Author for www.rtor.org
(see all)